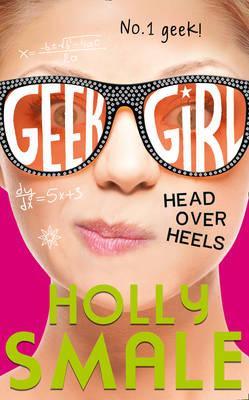 Holly Smale, Head over Heels (Geek Girl #5), HarperCollins Australia, 16 March 2016, 446pp., $14.99 (pbk.), ISBN 9780007574650
Holly Smale's Geek Girl series has clearly hit a nerve in the popularity stakes—at the Hay Literary Festival in May 2016, for instance, readers queued for up to three hours to have their books signed by the author. The first book in Smale's series, All Wrapped Up, was an instant hit in the UK becoming Britain's top-selling young adult fiction title in 2013. It went on to win the 'Best Book for Teens' category in the 2014 Waterstones Children's Book Prize. The series is now up to its fifth book, Head over Heels, with a sixth (and possibly final) book due soon.
Head over Heels, like previous books in the series, features Harriet Manners, the series' eponymous 'Geek Girl'. Harriet (in an experience shared with her creator Holly Smale) is discovered by a London modelling agency in her mid-teens and thrust headlong into the high-pressure world of fashion shows and advertising shoots. But it's not only the teenage modelling world that makes Harriet's life distinctive: she also has a passion (an obsession, really) for gathering facts and for organising her friends. The first passion is harmless enough: she knows that 'polar bears can eat eighty-six penguins in one sitting' and that 'if you lift a kangaroo's tail it can't hop' (p20). Many of the book's 97 chapters begin with a selection of utterly random, and mostly scientific, facts.
Harriet's second fixation is a little more fraught. She plans her friends' lives with a precision that would leave the best military strategists trailing in her dust. And she's often blissfully unaware of the havoc (and resentment) created by her well-intentioned 'command and control' oversight.
Harriet's friends (known as Team JINTH after the initial letters of their names) are joined in Head over Heels by others of the series' recurring characters: her malleable father, her practical step-mother, her bohemian step-grandmother and her baby sister, Tabitha. There's also her modelling agency 'fairy godmother' (Wilbur) and a Japanese model-friend (Rin) who she met during an earlier trip to Tokyo.
Harriet's life—just like the unfolding narrative—is conducted at breakneck speed. Amidst the various modelling, school and social commitments of her London life, she fits in a quick photo shoot in India. (Did you know that Indira Gandhi International … is the largest airport in India, and has doubled in size since 2007' (p339) and that 'elephants have three times as many neurons in their brains as humans' (p368)?) Through it all, she learns quite a bit about herself and about friendship. Who knows what her generous heart will discover on her next escape from England's shores … when she packs her bags for Australia.  For ages 12+
Reviewed by Tessa Wooldridge