Gregg Dreise, Today's Sun, Penguin Random House, August 2021, 16 pp., RRP $14.99 (board), ISBN 9781760898335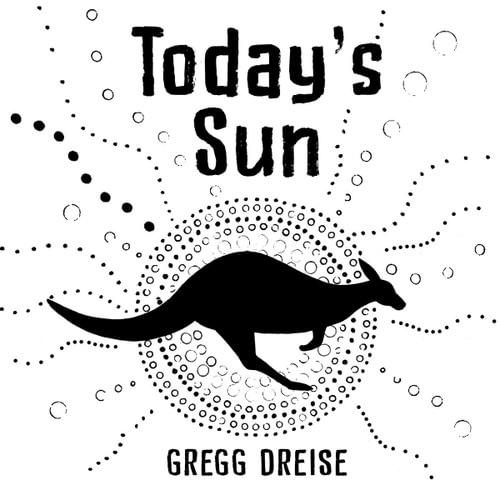 Kamilaroi man, Gregg Dreise is well-known for his children's poetry and vibrantly coloured, award winning books of First Nations stories and illustrations.
Unlike those colourful books, his new book, Today's Sun, has black and white illustrations only, making it perfectly suited for tiny, new babies. Yes, that's right – the high contrast of black and white images is easier for very young babies to see. Despite the lack of colour, the illustrations are still as detailed and filled with appealing Aboriginal patterns, bold lines and swirls, as his other books.
Each double page spread features the activity of an Australian animal through periods of the day, as depicted by the position of the sun in the sky. The text is graceful with a poetic structure and repeated refrain that would be soothing and pleasant to baby's ear. I love the originality of the anthropomorphic references to the sun – As the sun yawned… for the image of a sun peeping over the horizon and As today's sun warmed… refers to a midday sun high in the sky.
My grandchild Layla was born mid-September, and I'm thrilled that this book will be our first to share with her. With Christmas gift buying around the corner and borders still closed to our loved ones far away, this lovely sample of Australian animals and First Nations art would make a great gift for any new baby, but especially for sending overseas.
Reviewed by Barbara Swartz