Lauren J. Streiffer (text) and Rita Ivanova (illustrator), This Small King, One in a Million Publishing, October 2021, 32 pp., RRP 24.99 (hbk), ISBN 9780648927822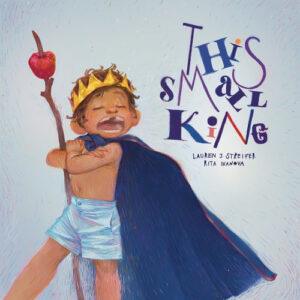 This Small King is about a young, naughty king who suddenly realises how kindness can transform his kingdom. Initially, the boy king gets his own way by yelling and throwing tantrums. No-one is happy in his kingdom.
Until, one strange day, an accident occurred.
The king opened his mouth, and out popped a nice word!
Slowly he realises that he can rule this kingdom and be strong and kind. The message is clear: everyone is a winner when kindness is practiced.
Ivanova uses strong strokes of warm colours to create arresting illustrations that will engage young children's attention. Streifer's rhyming verses are begging to be read aloud.
This is the first book from the Australian independent publishing house One in a Million Publishing. Their mission is to publish 'books that will inspire peace and care in a troubled world. Books that will be passed down by your family for generations.' This Small King is the first in a proposed series of four books.
This Small King is a charming and engaging picture ook with a strong message that will inspire children towards positive behaviour.
Highly recommended for ages 2 to 6 years old. This would make a perfect gift, and a great addition to children's library collections.
Reviewed by Gaby Meares