Phillip Marsden, Boss Ladies of Sport, Hachette Australia, December 2021, 32 pp., RRP $19.99 (hbk), ISBN 9780734421197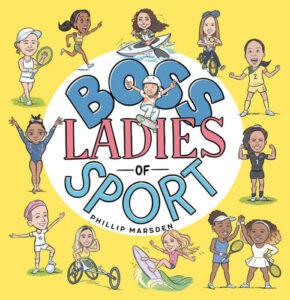 Featuring successful female athletes, this picture book presents them as cartoonish figures with faces which capture their individual charm. Twenty-five women are examined and say how they have been able to become leaders in their sports. They come from far and wide – from Australia, Italy, Jamaica and many unfamiliar countries.  Ariarne Titmus, Ash Barty and many others speak up for girls in sport, urging them to be courageous, fair, do their best and have fun.
It describes some of the struggles these girls have gone through, but also celebrates their achievements in simple language aimed at primary school children. Serena Williams has the last word: The success of every woman should be the inspiration to another.
Reviewed by Stella Lees