Moira Court, Lion is that You?, Fremantle Press, March 2022, 40 pp., RRP $24.99 (hbk), ISBN 9781760991241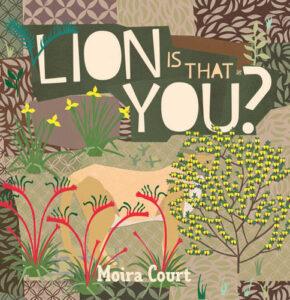 Young audiences will definitely be thrilled with the beautiful picture book Lion is that You? Undoubtedly, a range of mixed responses can be expected from audiences as they debate the existence or non-existence or perhaps 'hedge their bets either way' as to the possible existence of a feral lion living in the bush.
There are lions in this bushland, so they say. Shy, secretive mountain lions hidden away. These elusive beasts should not be here, though; their ancestors were left behind long long ago. Come on, let's take a good look around. Are there really lions to be found?
Audiences are invited on a journey of discovery from the very outset. And as each page is turned, in the hope of the finding the 'elusive' feral lion, many other animals are encountered hiding amongst the native Australian flora. All the while, audiences are provided with descriptions of each animal and their habitats. A Kangaroo with a warm woolly coat of browny-grey, a Bobtail lizard with a stumpy tai', a Goanna on four fast legs, a Quenda (a type of bandicoot) peacefully taking a nap, a Dugite waiting patiently to strike, and a Redcap parrot picking sweet blossom treats, and by story's end, We've looked inside, amongst, upon and between but there is not a single lion to be seen…, readers are not deterred nor disappointed, because what an adventure it has been!
This stunning picture book invites audience participation and Hey Lion is that you…? is certain to become a much-loved refrain and That's not Lion… the anticipated response.
Beautifully descriptive language, collective nouns, positional language and alliteration abound – all words chosen carefully and precisely to accurately reflect nature and the rich environment of the bush. Moira Court's passion for animals is evident in both her selection of language and extraordinary folkart.
Some pre-teaching of vocabulary is suggested, prior to reading, and display of these words in a reading corner coupled with students' own drawings of each of the animals is strongly recommended. As an extension activity, students could explore additional Australian animals using Court's pattern and rhyme and attempt their own version of folkart.
Court is a notable artist and illustrator. Each double-page spread of Lion is that You? features stunning collage, layered woodblock block prints and screen-prints, all completed by hand. Her work has a unique and distinctive quality in so much as she is one of only a sprinkling of artists who work with these mediums. Suffice to say, the visual language of Lion is That You? is equally as magnificent as the meticulously constructed textual language.
Young audiences will delight in this picture book, with it certain to become a firm favourite to be shared and enjoyed for readers aged three to five … whilst learning about the natural world and its environs.
Moira's previous books include My Superhero, Colour Me, Miss Llewellyn-Jones Goes to Town, Antarctica and At the Dog Park.
Her work has been shortlisted for the Western Australian Premier's Book Awards and was a CBCA Notable Book. She was shortlisted for the CBCA Crichton Award for New Illustrators in 2009.
Recommended for ages 3-5 years.
Reviewed by Julie Deane