Emily Suvada, This Mortal Coil,  Puffin, 30 Oct 2017, 453pp., $17.99 (pbk), ISBN: 9780141379272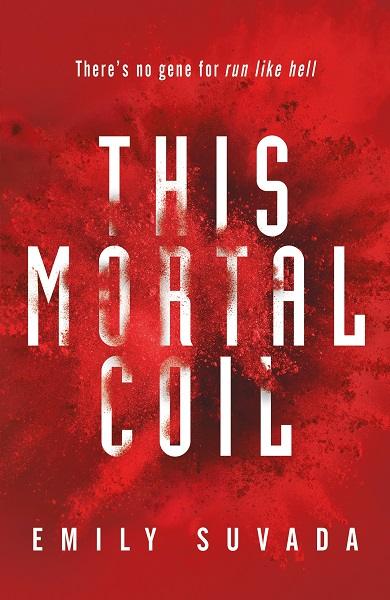 With the tag-line there's no gene for run like hell, readers of This Mortal Coil know they are in for an action-packed story before they turn to the front page – and they should not be disappointed. This dystopian tale features many themes, and introduces some new ideas for an original story that maintains its fast pace for most of its 450 odd pages.
The story centres around Catarina Agatta, daughter of world renowned geneticist Lachlan Agatta, and is set two years after the world has been shaken by a deadly plague known as Hydra. Hydra has unique and disturbing symptoms – victims literally explode several days after being infected, shooting infectious mist into the air.  The only way to become immune for a short period of time is to consume the flesh of the infected in the days before they detonate. It's gross – but intriguing and original! Cat's father has been abducted by the powerful Cartaxus, an organisation who is seeking a cure for Hydra, and Cat must find him so that the vaccine may be released openly to everyone, rather than under the control of one organisation. However things are not this simple. In this future, everyone can manipulate their own DNA by downloading apps into hardware installed in the forearm.   The saying 'there's an app for that' has never held more meaning that in the context of this story!
This Mortal Coil is a post-apocalyptic thriller with it all – science, technology, genetic manipulation, coding, hacking, a plague with zombie overtones, psychological twists and turns and even a dash of romance. While this may have led to a crazy, confused plot, it is surprisingly easy to follow, and for her first novel, Emily Suvada has done an outstanding job of weaving together unpredictable storylines that will have wide appeal. Underpinning it all is the fascinating question of what actually makes us human – and how do we define who we really are? Fans of horror, science fiction, dystopian novels and technology will all be drawn to the originality of the plot, although perhaps less so to the characters, who remain a little one-dimensional throughout.
Some of the plot may not stand up to rigorous analysis, however Suvada's background in Maths, Astrophysics and Coding ensures it is convincing. This Mortal Coil is suitable for good readers fifteen years and older, and those who enjoy the ride will be excited to know that the story has an open ending, hinting that there are more volumes to come.
Read more about Emily Suvada on her website.
Reviewed by Kay Oddone