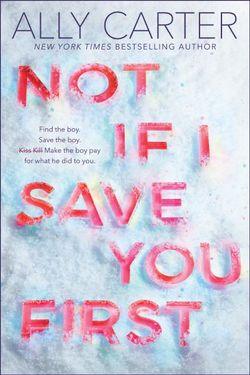 Ally Carter, Not If I Save You First,  Scholastic Australia, May 2018,  304pp., $16.99 (pbk),  ISBN: 9781338134148
Ten-year-olds Maddie and Logan spend almost every moment of the week together. Not only are they best friends, they both have the extraordinary experience of living in the White House. As the daughter of the head of White House security, Maddie loves her life of galas, gowns and the 24/7 gourmet kitchen that comes with being so close to the president's son. Her life in this comfortable world abruptly ends one night during a failed terrorist attack when Maddie's father is shot.
Maddie is uprooted from her busy life of people and privilege and relocated with her father to a tiny cabin in the Alaskan wilderness.
Beautiful, isolated, and brutally rugged, the life Maddie lives is filled with loneliness. Over the next six years, she does not hear from Logan once. Her feelings of abandonment turn to anger and Logan becomes the last person she ever wants to see again. Now, Maddie hates Logan.
When his parents become exasperated with Logan's entitled and reckless behaviour, he is shipped off to Maddie and her father for a brutal reality check. With her father off on a flying job, Maddie is forced to endure this Logan – a different boy to the one she knew and loved. When the assailants strike again Maddie has to decide: should she save him, or should she kill him?
The location of the story is magnificent and used as integral part of the plot. Maddie's skills are mostly plausible as the daughter of the ex-head of the White House Secret Service and as someone who has adapted to life in a deadly terrain. She's an intelligent hero who is self-assured, strong and not afraid to bedazzle her favourite hatchet.
Utterly engrossing and a fast-paced thrill read, Not If I save You First is packed with adrenaline. A fun, quick read, this story will satisfy those looking for some fun escapism starring an empowered female lead character.
Reviewed by Fiona Miller-Stevens