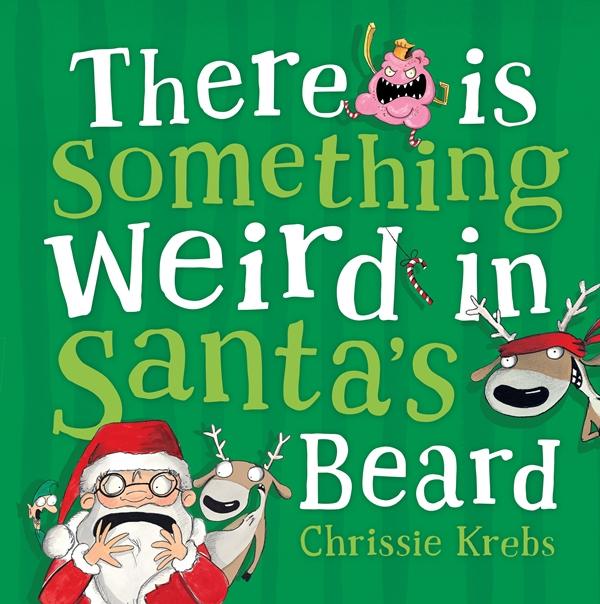 Chrissie Krebs, There's Something Weird in Santa's Beard, Random House, 31 Oct 2016, 32pp., $19.99 (hbk) ISBN 9780143780861 
This is a cheeky rhyming tale about what happens when Santa overindulges on sweet treats on Christmas Eve. It opens with the man in red looking a little sugar-crazed as he samples Mrs Claus' cream-filled, icing-topped cakes. He heads out to deliver presents, snacking at every stop on biscuits, mince pies and soft drink, all the while dropping crumbs in his beard and staining the front of his red suit.  After stumbling home looking rather grotty, Santa falls asleep without a bath or brushing his teeth. When he wake up, a strange beast jumps from his beard.
"Its legs are minty candy canes, its body is bubble gum. Its arms are sticks of cold French fries, its hat a mince pie crumb."
The strange beast wreaks havoc, but it's too silly to be scary. And the reindeers seem capable of saving the (Christmas) day. Although I wonder if that strange beast would have appeared at all if Santa had used some table manners and snacked on nuts and celery sticks?
The illustrations are bright and fun and my three kiddos were delighted to see Santa's – ahem – bum crack make an appearance, as it also does in our much-read The Aussie Night Before Christmas (by Yvonne Morrison, illustrated by Kilmeny Niland).
It would be fun to draw or make our own "strange beasts" based on the treats our family leaves out for Santa and we'll give that craft a go closer to Christmas.
Reviewed by Carissa Mason