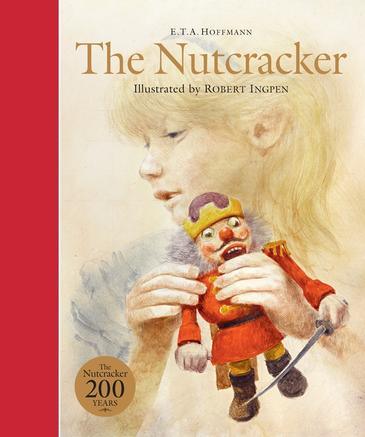 Ernest Theodor Armadeus Hoffmann (text), Robert Ingpen (illus.),  The Nutcracker,  Walker Books Australia, Oct 2016, 144pp., $39.99 (hbk) ISBN 9781922244550
This year marks 200 years since the classic children's Christmas story The Nutcracker was first published, so if you haven't read it with your children yet, now is the perfect time. This edition is beautiful, with gold-foil details on the spine and the dust jacket and the shape of an old-style wooden toy soldier impressed onto the front cover. There's illustrated endpapers and, best of all, the book is jam-packed with pictures by renowned Australian illustrator Robert Ingpen.
I'm a big fan of illustrated chapter books and I love reading them to my kids. When we first moved to longer stories, I found pictures helped maintain their interest. Now, we just enjoy looking at the pictures as the story unfolds. And the pictures in this book are wonderful.
There are more than 70 illustrations, including 13 glorious double-page spreads depicting key scenes from the story: the drawing room decked out for Christmas where the children first meet the Nutcracker; the seven-headed mouse king with his seven gold crowns; the dramatic battle between the toys and the mouse army; the magical kingdom of toys and more. If that weren't enough, there are also full page illustrations, pictures spread over the top halves of two pages, and a generous number of smaller illustration sprinkled throughout the text. Also, each of the 14 chapters is heralded by a double-page illustration in sepia.
This edition is a new translation of the entire original German story, which is much more detailed than the famous ballet version. There is, of course, the tale of the selfless young girl enamoured with the enchanted Nutcracker her Godfather gives her for Christmas. The Nutcracker leads a toy army into battle against the Mouse King before taking her to the magical kingdom of toys. This book also includes the story the girl is told by her Godfather about Princess Pirlipat and how the Nutcracker became enchanted in the first place.
I had borrowed an abridged picture book version of The Nutcracker from our local library to read to my twin girls, 8, earlier this year and wasn't sure they would last through this longer reading of such an old story. While some of the language used is quite formal, reflecting the times, it has been translated so as not to sound old-fashioned. And, cleverly, many of the chapters end with an invitation to see what happens next, giving a logical place to end storytime, as well as an enticement for my girls to ask for "just one more chapter".
The Nutcracker is a magical story and this is a book to be treasured and re-read aloud every year at Christmas time.
Reviewed by Carissa Mason