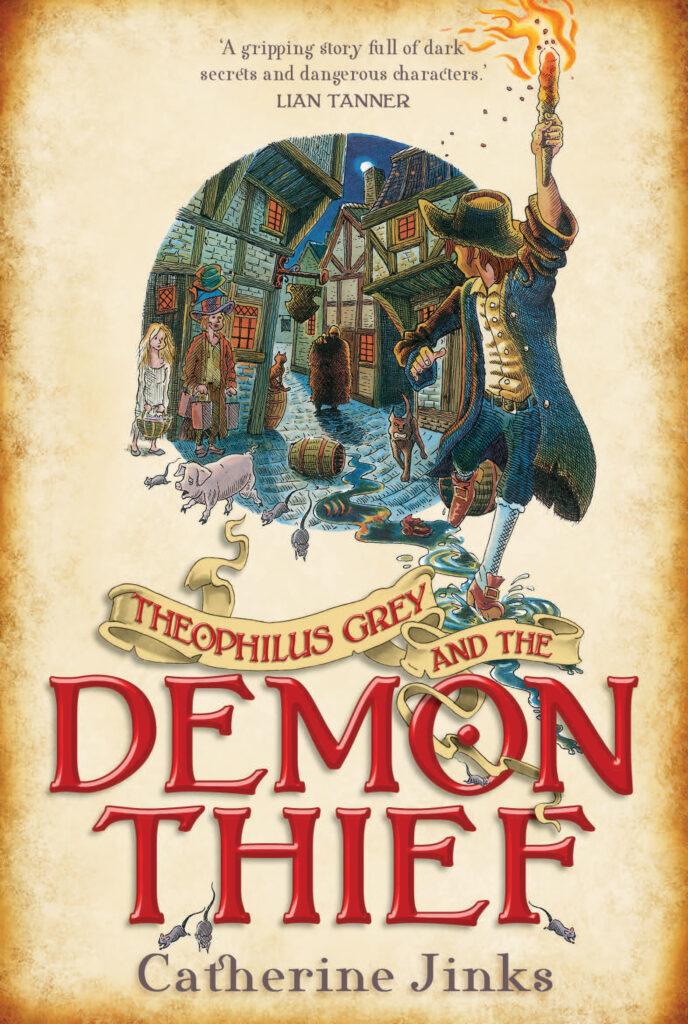 Catherine Jinks,  Theophilus Grey and the Demon Thief,  Allen & Unwin,  October 2015,  320pp.,  $19.99 (hbk),  ISBN 978 1 76011 360 5
This is the first part of a two part mystery series set in Georgian London. Philo is a linkboy, one of a gang of lads who guide people through the dark and dangerous streets and alleys of the city to their homes or any destination they desire. Philo, an orphan, has been brought up by Garnet Hooke, a benevolent and ailing Fagin-like character who gathers information from his linkboys and other contacts to provide the secrets he needs to keeps his cash flowing. Philo is grateful that Garnet took him in, but there are some aspects of the man that are mysterious, and not in a good way.  Philo meets a physician, Mr Paxton, and together they seek the truth about a crime wave affecting their area of London.
Superstitions that characterise the sixteenth century are in conflict with the rationalism of the seventeenth. Philo epitomises the conflict. Are they physical paroxysms that affect Jemmy Jukes and Jasper Le Court, or is there a horrible demon about to lay his hands on Philo? Will the rosemary he carries protect him from a magical foe, or is he facing a real human danger?
Philo survives it all, not without having some of his illusions shattered, and will go on to feature in Jinks's next book about him, Theophilus Grey and the Traitor's Mask, which will be out next year. I'm looking forward to it. Enjoy this one, not least because of its novel use of flash talk. There is a glossary attached.
Teachers Notes are available on the Allen & Unwin website.
Reviewed by Stella Lees