Norman Jorgensen, The Wreckers' Revenge, Fremantle Press, June 2019, 320 pp., RRP $16.99 (pbk), ISBN 9781925815450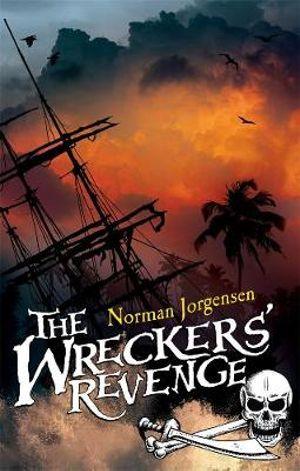 The Wreckers' Revenge by Norman Jorgensen is the follow-up to his first story The Smuggler's Curse about would-be Australian pirate/adventurer Red Read. In his second adventure, Red finds himself expelled from school and back on the Black Dragon with the dashing Captain Black Bowen and crew. In a bid to hunt down the fabled treasure of William Dampier, Red finds himself fighting against revenge-hungry wreckers, monster storms and a killer disease.
I also had the pleasure of reviewing The Smuggler's Curse and you can find that review here. Whenever you read a sequel of a book you enjoyed, a little part of you crosses its fingers and prays it will be just as good. Well, I'm happy to report that The Wreckers' Revenge is even better. Not only did it have just as much exciting adventure, gruesome detail and quotes from Shakespeare, the story was more deftly crafted and delivered at just the right pace.
Told through Red Read's eyes, (who I assume to be around fourteen) it soon becomes clear he is an ordinary boy who does extraordinary things. I felt a real connection and grew to admire Red as he matured throughout the novel. Captain Black Bowen is his usual swashbuckling, Shakespeare-quoting self, treading the line between his own justice and the law, with the crew of the Black Dragon backing him up. And the inclusion of Anna and her sea-savvy mother, means that once again Jorgensen has done a fabulous job of incorporating strong women in a historical setting that doesn't usually allow for them.
It's clear that Jorgensen knows his sailing and his history, too. The story brims with historical detail and sailing lore without being too heavy-handed. Set around Fremantle, Broome, the Cocos Islands and Christmas Island — settings not usually found in books for children, I loved reading about these locations and enjoyed the uniquely Australian feel they evoked.
This is a pacey read that will be enjoyed by kids aged 10+ who love adventure, treasure hunting and horrible histories!
Reviewed by Renee Mihulka. Read Renee's interview with Norman Jorgensen here.