Amie Kaufman and Ryan Graudin, The World Between Blinks, HarperCollins Children's Books, February 2021, 336pp., RRP $16.99 (pbk), ISBN 9781460757628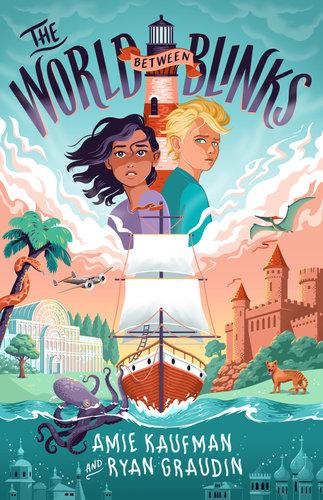 There is much to love about this fast-paced book and I am eagerly anticipating the second in this series to be published in 2022.
After following a map left behind by their recently deceased Nana, Marisol and her cousin Jake find themselves caught in a world that exists alongside their own. This world "is everywhere and it is nowhere". It can be seen everyday but very few pay it any attention. For Marisol and Jake, it is a place of amazing discoveries, long lost histories, and desperate adventures.
To avoid being stuck in this crazy world they must embark on a quest to find Christopher Creaturo, for he is their key to getting home. But this proves to be fraught with difficulty, as Christopher does not want to be found.
The premise of a world existing between blinks of the eye is fascinating whimsy that will have children experimenting with their blinking to catch a glimpse of this alternative realm. This concept is relatable and is presented in such a way as to seem possible for the young creative mind.
The authors' love of history is evident throughout and the captivating gems of our world's actual and mythological history, like the whereabouts of the Loch Ness Monster, the Crystal Palace, the Megalodon and the Frost Fair will enthrall young readers and perhaps send them on their own research journey of discovery. This will be helped along by the addition of the Curators' Files at the end of the book. These files catalogue all that has made its way to the World Between Blinks.
The development of the characters from beginning to end is comprehensive and satisfying. This development is made more sophisticated by the juxtaposition of the loss Marisol and Jake suffered at the death of their grandmother and the believed loss of the world's precious historical artefacts, buildings, animals and people. While Jake and Marisol are coming to terms with the death of their grandmother and the imminent loss of her beach house, they discover that nothing is ever truly gone but simple moves to a new plain beyond perception.
I'd recommend this book to all readers 9-12 who enjoy a fast-paced adventure.
Reviewed by Katie Mineeff