Pénélope Bagieu, The Witches by Roald Dahl: The Graphic Novel, Scholastic, November 2020, 304 pp., RRP $24.99 (pbk), ISBN 9781760978303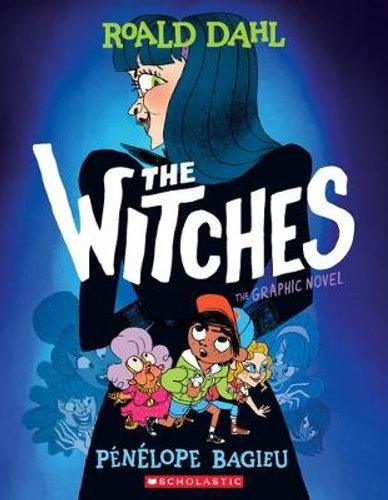 Roald Dahl's The Witches, written in 1983 was the first scary book I remember borrowing from the school library. If you aren't familiar with the story, it's a slightly horrid, but funny story about witches who are hidden all around us and how an eight year old boy and his grandmother come face to face with the Grand High Witch herself.
Penelope Bagieu's graphic novel adaptation of The Witches is marvellous. Bagieu is a French author and illustrator, best known for winning the 2019 Eisner Award for Best U.S. Edition of International Material at Comic-Con for Brazen: Rebel Ladies Who Rocked the World. 
Bagieu's unique and distinctive cartoon illustrations feel like they amplify that original magic of duo Roald Dahl and illustrator Quentin Blake. In this adaptation, Bagieu has illustrated and written the dialogue. Not everyone will agree with changes to a story considered a classic, but the changes are small details that are effective in updating the story to fit more seamlessly into 2020.
Every panel is a delight to explore and retains the wit, giggles, and terror of Dahl's telling. The text is enjoyable to read aloud, and the use of wordless panels impart lots of atmosphere. Bagieu's cartoon style suits The Witches, from cigar-smoking Grandmamma, to the diabolical terror of The Grand High Witch. The graphic novel format works very well for this story to give a sense of place, when all the action takes place in a hotel. There are interesting visual perspectives and feature pages that seamlessly race readers' eyes through the pages.
Penelope Bagieu's graphic novel adaptation of The Witches is suitable for readers aged 7 and over. Irresistibly eye-catching for all ages, it should attract a whole new group of readers and even spawn a new appetite for more graphic novel versions of Dahl's stories.
Reviewed by Angela Brown