Stephanie Owen Reader (text) Tania McCartney (illustrator), Australia's Wild Weird Wonderful Weather, NLA Publishing, October 2020, 68 pp., RRP $24.99 (hbk), ISBN 9780642279637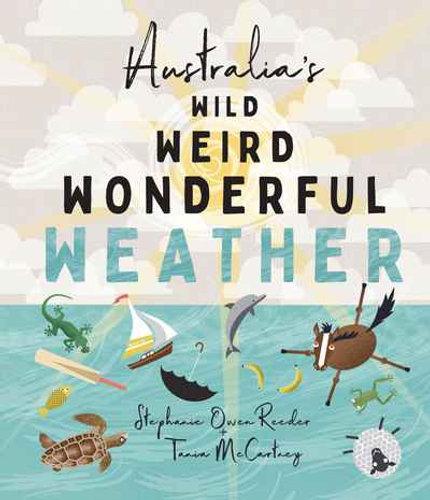 A captivating title and an intriguing cover illustration of random animals and objects falling into an ocean offer instant appeal for this non-fiction book. Weather is perhaps not a topic that would traditionally interest children, so an attractive cover is a great start.
The book is divided into seven broad areas: seasonal weather; precipitation; sound, light, movement; disastrous weather; weather forecasting; climate change and researching the weather with three page-spreads devoted per topic. The format is of short paragraphs about various weather facts inserted amongst the talented graphic illustrations of Tania McCartney.
There are a lot of interesting facts to be garnered within the volume, but I would recommend it as a more informal pick up and peruse book rather than a chronological start to finish read in the absence of a narrative structure. I can imagine it being used within a classroom as an assistant referral text in the study of weather, or different page spreads being read in small groups. With such a broad topic it is too much take in the whole book in one solitary read.
It is a positive sign of the times that Indigenous knowledge is included in the text alongside western scientific knowledge. A page spread is dedicated to 'Bush Forecasting' that introduces the concept of Indigenous seasons and how observations of plant and animals are used to predict weather.
Another important inclusion is that of climate change. There are some alarming facts outlined about rising temperatures and extreme weather conditions, but there is also discussion about ways humans can reduce their impact.
This book is certainly well-researched and presents some quality information. My one criticism is that there were perhaps too many concepts dealt with so not allowing much expansion on each. Readers would need to have a fair bit of background knowledge to understand some of the concepts because they were only briefly described. It could also be a little overwhelming to receive such a lot of separate pieces of information.
Despite a few structural issues, Australia's Wild Weird Wonderful Weather presents a solid overview of the topic and the attractive colour palettes and pictures make for an engaging read.
Reviewed by Julie Bertola