Jackie French, The Vanishing at the Very Small Castle (The Butter O'Bryan Mysteries #2), HarperCollins Publishers, April 2021, 272 pp., RRP $16.99 (pbk), ISBN 9781460757734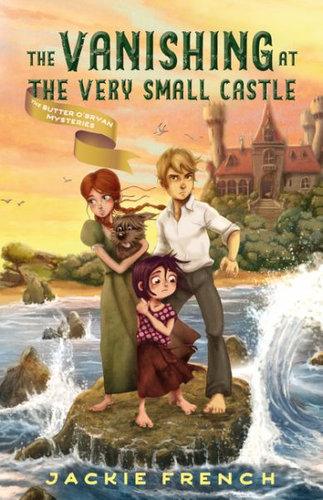 When there's a knock on the front door of the Very Small Castle, the last thing Butter expects to see is a monster. But it's not a real monster. He's a man who thinks he's a monster. Tall and scarred during WWI, he has decided to take on a Frankenstein-like persona. Which is perfect for talking movie-makers Rose and Marigold Marvell – in fact, they write a movie specifically for him to have a part so that he could leave the circus. And now they would like to borrow the Very Small Castle as the setting for some of their movie scenes. Aunts Elephant, Peculiar and Cake agree but on the condition that Butter, Olive and Tish are included in one of the scenes. The children are very excited to be in a moving picture but when the star of the show, the glamorous Delilah Devine, disappears almost in front of their eyes on Howler Beach, the filming is stalled, and the police are baffled. Luckily Butter knows the grounds well and was there when Delilah disappeared. He has a head start on the case and gets cracking on solving it.
This second book in the Butter O'Bryan series is a charming mix of mystery, history, colourful characters, food, food, and more food. Jackie French writes history from the memory of stories passed down to her and as a result, her stories are brought alive. The Vanishing at the Very Small Castle is vibrant with suspense and humour and those interesting historical details of life in Australia during the Depression that you won't find anywhere else. The characters are larger than life and it helps to have read the prequel to understand their histories but is not necessary to enjoy this book.
As a historical mystery novel, there are of course some distressing details, such as the injuries inflicted on soldiers in WWI, however they are softened by the quirky characters and the genuine suspense. And, of course, the food – despite the hardship of the 1930s, the residents of the Very Small Castle have no shortage of cake or pavlova. Naturally, there's also a wombat.
As with Jackie French's other novels, the book includes a set of author notes that include includes extra details about Susso camps, life during the depression, talkie movies and the movie industry in Australia and other extras including a vocabulary list, recipes, and some old-fashioned games.
This is a fabulous, highly educational book in the form of a cracking, fun suspense perfect for readers 10+ and those interested in WWI history and The Great Depression.
Reviewed by Pamela Ueckerman