Hana Tooke (text) and Ayesha L. Rubio (illustrator), The Unadoptables, Penguin Random House UK, July 2020, 400 pp., RRP $16.99 (pbk), ISBN 9780241453612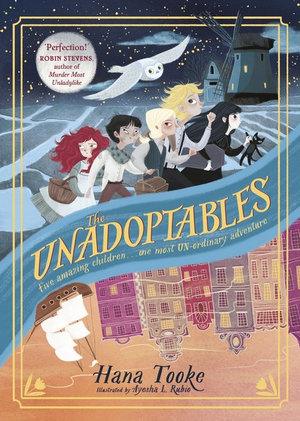 At the Little Tulip Orphanage, not once have the Rules for Baby Abandonment been broken. That is, until the autumn of 1880, when five babies are left in outrageous circumstances: one in a toolbox, one in a picnic hamper, one in a wheat sack, and one in a coffin-shaped basket. Those babies were Lotta, Egg, Fenna, Sem and Milou. And although their cruel matron might think they're 'unadoptable', they know their individuality is what makes them special – and so determined to stay together. When a most sinister gentleman appears and threatens to tear them apart, the gang make a daring escape across the canals of Amsterdam. But is their real home – and their real family – already closer than they realise?
The Unadoptables is an utterly charming modern folk tale from debut author Hana Tooke. Set against the backdrop of late 19th century Amsterdam, this tale of adventure, friendship and the quest for home and family is sure to become an instant classic, and will enchant younger and older readers alike. 
The story's main character is undoubtedly Milou, the superlatively perceptive orphan, 12 years of age, who notices everything and keeps a book of theories regarding the possible whereabouts (and expected return) of her real parents. Through her eyes we experience the story, and we come to deeply feel her sense of loneliness and loss, as well as her determination and optimism that her own mother and father will come and sweep her away from the dreadful life of the orphanage where she was found. The story is unexpectedly dark in places, and Tooke has woven her narrative with assurance and skill. Her characters are all unique and magnificent, her descriptions vivid and evocative.
The Unadoptables' cast of orphans with unique abilities is sure to win the hearts of anyone who picks it up. The book is aimed at readers from 10-14 years of age, however there's no doubt that much older readers who enjoy fantasy fables with adventure, intrigue, heroes, villains and just a touch of darkness will be adding this to their favourites list, just as I have. I'm sincerely hoping that Tooke will bring us more adventures with Milou and her amazing friends in the not too distant future!
Reviewed by Christian Price