Caroline Tuohey (Text) and Karen Sagovac (illustrator), Skadoodle & Snug's Magnificent Plan, Larrikin House, May 2020, 32pp., RRP $24.99 (hbk) ISBN 9780987635471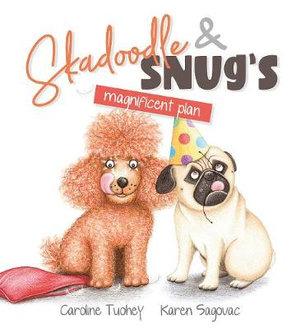 Skadoodle and Snug are the unlikeliest of friends, two neighbouring pooches who come to the hilarious realisation that they are just not suited to their owners' lifestyles. As the story unfolds, the two pals come up with the perfect plan to switch owners and start living their best doggy lives. When Skadoodle & Snug's best laid plans go completely pear-shaped this delightful, slapstick tale really comes to life.
Skadoodle and Snug both resided in town,
one with Miss Willis, the other Joe Brown.
And each little dog loved their owner to bits,
but knew that the pairings were really the pits.
The canine characters in this picture book are so engaging and likeable, I was completely unsurprised to learn that author Caroline Tuohey had based Skadoodle and Snug on some real life doggy pals to whom, rather touchingly, this picture book is dedicated.
Along with the sweet rhyming text which is sure to keep young readers (3+) entertained and curious, Karen Sagovac's bright, beautifully textured illustrations really help to capture each character's fabulously different personality. The illustrations are very funny and perfectly depict all the crazy doggy antics throughout the story, and the expressions on Skadoodle and Snug's faces, particularly when their failed plot is rumbled, are just priceless.
Young readers, dog owners or not, will find the far-fetched schemes of these cunning canine pals a real hoot. Skadoodle & Snug's Magnificent Plan is a great picture book to share with children, encouraging clever thinking and inviting young readers to explore the concept of 'fitting in' and acceptance in their own lives.
Reviewed by Lisa Mercer