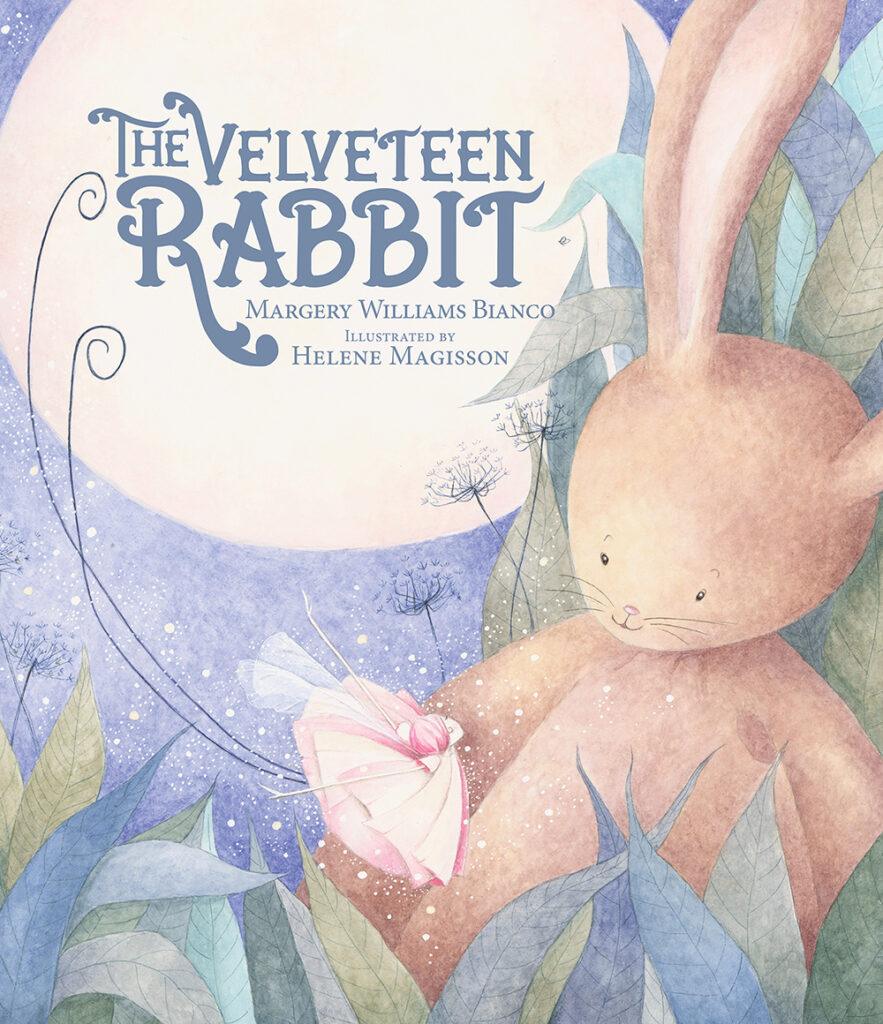 Margery Williams Bianco (text), Helene Magisson (illustrations),  The Velveteen Rabbit,  New Frontier Publishing, 1 March 2015, $27.99(hbk),  48pp.,  ISBN 9781925059304
Better known as Margery Williams, the American author first published this classic tale in 1922. Since then the much-loved story has been published in over 200 editions. Many different illustrators have sought to interpret and depict the nursery flavour and poignancy of The Velveteen Rabbit. With this new edition, the European heritage of French-Australian illustrator Helene Magisson is evident in her softly-hued, stylistic pictures that focus on the magical dimension of the story. It is a gentle but profound tale after the style of Hans Christian Andersen; it may be enjoyed superficially by young readers as the story of the relationship between a boy and his toy rabbit or contemplated by older readers as a treatment on the perception of reality.
One of many toys in a Christmas stocking, the Rabbit is soon forgotten by the boy. A friendship with the old and wise Skin Horse leads to a discussion about what is real. "Real isn't how you are made. It's a thing that happens to you." When a bed comfort toy is misplaced, Nana gives him the Velveteen Rabbit instead and the boy becomes attached to it. The much-loved toy becomes shabby over time and upon the threat to throw it out, the boy protests that Rabbit 'isn't a toy. He's real.' Outside, when he encounters real rabbits, he sadly doubts his reality. A severe bout of Scarlet Fever suffered by the boy, the necessity to dispose of the infected toys, intervention by a fairy and the application of magic and Rabbit is transformed into a mortal creature, Real at last to everyone.
This is a beautifully designed edition of the classic, most admirably illustrated in its technically excellent, atmospheric pictures. An enchanting book for all ages.  Teacher's Notes are available on the New Frontier website.
reviewed by Kevin Steinberger