Rick Riordan, The Tyrant's Tomb (The Trials of Apollo #4), Penguin Books Ltd., December 2019, 528 pp., RRP $22.99 (pbk), ISBN  9780141364049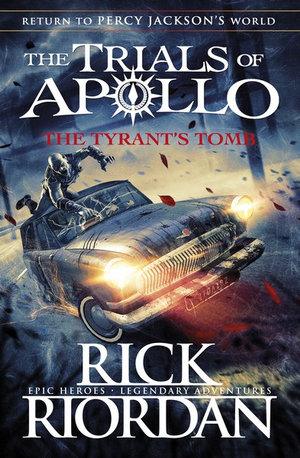 "I'll be honest, I've been having a pretty rough time of it lately… Nero, Caligula and Commodus are heading for San Francisco with a massive army – and an overwhelming desire to destroy Camp Jupiter and everyone in it. Unfortunately, our only chance of salvation lies in the forgotten tomb of another psychotic ruler. You thought the emperors were scary? Wait till you meet the last king of Rome…"
The latest in Rick Riordan's hugely popular series, The Tyrant's Tomb follows the continuing adventures of Apollo – once a god but now forced to take human form – as he learns what it truly means to be mortal, and to care about mortal emotions and experiences. 
The book is written in the first person, from Apollo's (now known as Lester Papadopoulos) point of view.  Riordan gives him a sarcastic, sardonic tone that works well for telling the story with plenty of action and humour, as well as the occasional dip into Apollo's past encounters with various famous people across the millennia.  This is my first adventure in Riordan's world of modern-day mythos, so there were a number of references to things that had happened in previous volumes, however these didn't prove any hindrance to enjoying the story.  The diary style first-person format works well for Riordan and serves the character equally well – as Apollo is given to the occasional song or epic poem, it makes sense that the book should be like a modernised version of the fables of old. 
The cast of characters is pleasingly diverse, and it's good to see such a mainstream and popular series going for the types of themes we see in The Tyrant's Tomb – primarily that Apollo, once immortal and all-powerful, comes face to face with the human cost of his arrogance and hubris, and through his own suffering he gains the insight he needs to grow beyond his old ways and to become a better person. The greatest of all ironies – his godlike powers slowly begin to return as he becomes a better human being.
As for content there's a little bit of scary stuff in there… monsters, skeletons, zombies, etc… young readers from 10 and up will enjoy this, or just anyone who digs mythology and enjoys stories that put a new spin on a literally "classic" tale!
Reviewed by Christian Price