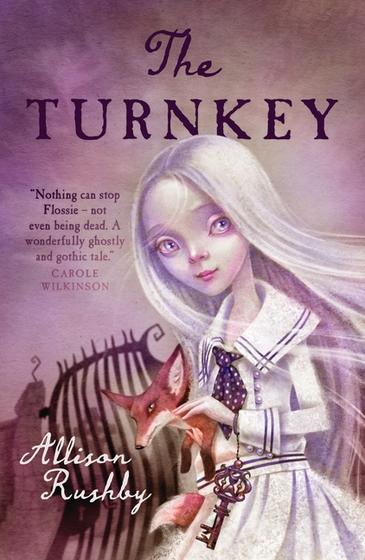 Allison Rushby,  The Turnkey,  Walker Books Australia,  1 March 2017,  256pp.,  $16.99 (pbk),  ISBN: 9781925126921
As the Turnkey at London's Highgate Cemetery, twelve-year-old Flossie Birdwhistle oversees all the souls at rest. A ghost herself, Flossie lives in the twighlight world with a collection of otherworldly friends. As World War II rages across Europe, enemy bombers constantly attack London, so when Flossie encounters the ghost of a German soldier lurking around her cemetery, she becomes suspicious. As Flossie searches to find answers, she unwittingly uncovers a sinister plot that spans both the world of the living and dead.
In Flossie's life after death, cemeteries are home, ghosts are companions and inanimate objects (like statues) come to life as advisors. And it's in this realm that this eerie, gothic tale is set. The fate of the warring world is in the hands of a clever — and dead — young heroine and she must find a way to defeat the enemy that threatens her beloved country and the cemetery she and hundreds of other souls call home. Battling the unknown, the undead and her own self-doubt, Flossie must overcome great odds to win.
Immediately upon seeing the stunning cover of The Turnkey, I was intrigued. I put down everything else I was reading at that moment and jumped into this book. From a unique setting to an unexpected heroine, from recent history to ancient myth, this book is like nothing I've read before. It's haunting in a lovely, poetic way where the dead lead a life of their own; where military persons still band together to fight for what is good and true; where a lonely girl finds solace in a returned doll; and where there is always someone watching over, even in dark, war torn times.
Air raid sirens and nightly bombings set the atmosphere of war throughout the story lending to an ever increasing urgency to stop the enemy. History enthusiasts will be intrigued with the details of military strategy and scenes of espionage. With mystery and suspense, warmth and happiness in the dreariest of times, Allison Rushby has created a action-packed story with depth and emotion that will appeal to sophisticated young readers.
Reviewed by Stephanie Ward