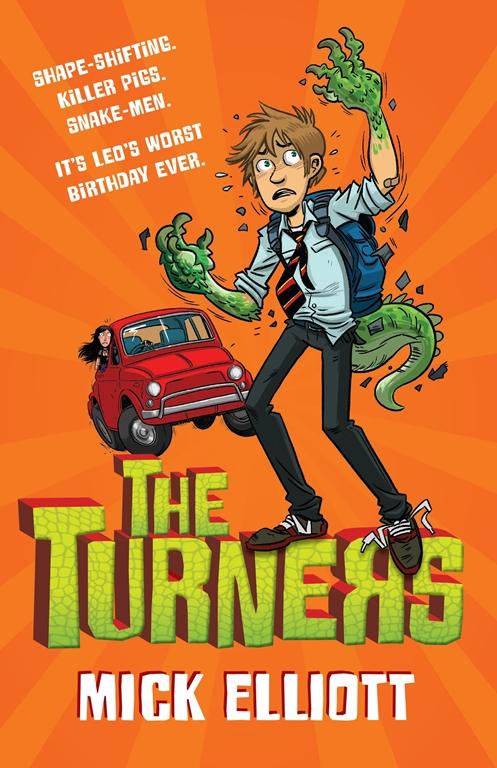 Mick Elliot, The Turners, Lothian/Hachette, 26 April 2016, 247pp., $14.99, (pbk) ISBN 9780734416629
A coming of age activity usually heralds most boys' thirteen-year birthday with family and friends, such as a party or type of adventure sport. Leo Lennox's thirteenth birthday seems to start as a normal day, going to school, hanging out with friends and trying to be noticed by the prettiest girl in the school. However, while he is in the library he experiences a strange sensation and feels a lump form on his bottom. It feels scaly and is growing quickly but before Leo can head to the toilets, he turns into a ravenous komodo dragon. And so begins Leo's teenage years, learning that he is not human but a Turner, a species that changes from human to animal. Leo is no ordinary Turner. While most Turners change at nighttime, Leo Turns during the day. This causes much concern to his father and older sister, with whom he lives. Leo's mother has not returned from a Turning episode years earlier, and his day Turning adds to the mystery.
After Leo's father, Vernon, goes to find some answers, Leo and his sister Abbie are attacked by two Vipermen. Fleeing in one of their father's restored Fiats, Leo and Abbie go in search of their father. They court danger and meet many interesting people along the way. Leo learns more about his Turning and its individual and unusual qualities.
The first book in a series, this will be enjoyed by a wide variety of readers. The plot and dialogue are strong and well worked, the story original and funny. The topic enables many avenues for humour and Mick Elliott takes advantage of these in an effective manner. The banter between the siblings is very funny. Elliot has cleverly written of a topic that will appeal to a young audience, while at the same time sustaining an independent reader's attention. This book will make a brilliant read aloud. Highly recommended.