Andrew Daddo (text) and Stephen Michael King (illustrator), The Treasure of Treasures, Atticus van Tasticus: Book 3, Penguin Australia, September 2020, 288pp., RRP $14.99 (pbk), ISBN 9781760892869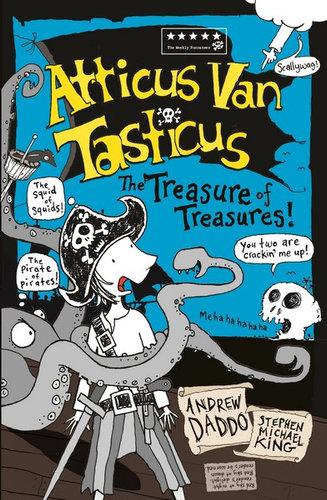 You've got to love a story that begins with the name, 'BUTTFACE' hollered from a pirate.
In this third installment in the Attitcus Van Tasticus series, the Map of Half Maps is in the hands of Atticus and his crew. All aboard The Grandnan, the pirates are set to find the long-awaited treasure. But it just isn't as easy as having a map to lead the way. Dark scary islands that are actual giant skulls, method writers who really want to feel their pirate story, terrifying monsters from the deep and fearsome ghosts all stand in the way of Atticus and his crew. 
Daddo and King clearly had some fun coming up with the most outrageous names for their characters in this series. With Buttface, Stinkeye, Mullet, Silent Type, Hogbreath, and Fishface, there's no doubt that this author/illustrator duo are finely tuned to their readership. The cartoons scattered throughout add to the outrageous plot twists and break up the chapters for early readers who may be intimidated with a chapter-sized book.
Besides friendship, adventure, fun and persistence, this story has a pretty solid message about the pirate way of life…the right thing to do [is]to bust through that door and take what [is]rightfully someone else's!
Add to all this, the 'How to Draw feature' at the end of the book and you have a tantalising feast for absurd adventure fans.
Reviewed by Katie Mineeff