George Ivanoff, The Supernatural Survival Guide, Penguin Random House Australia, September 2021, 176 pp., RRP $24.99 (hbk), ISBN 9781761043635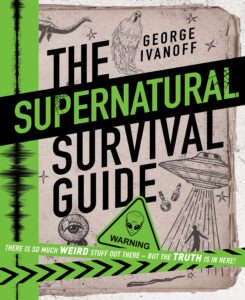 This humorous non-fiction text is the third in the 'survival' series by this author. Jam packed with facts about the supernatural, it will appeal to most young readers' fascination for all things weird and creepy. Narrated by an avatar, the conversational tone delivers information in an accessible way.
There are four main sections: "They Came From Outta This World…Maybe', 'Beastly Stuff', 'From Beyond The Grave' and 'Everything Else (All Of It Weird). Within each section are specific chapters which in turn have fact boxes and fact files. Comments and opinions from the narrator are scattered throughout in speech bubbles and post-its, which further clarify the facts and add humour. The author gives the reader opportunities to be critical and make decisions about credibility for themselves. The Real or Fake tables help to clarify the information in an easy to understand way. I enjoyed the inclusion of some references to Australian phenomena (but where was the bunyip?).
There is a fun 'weird-o-meter' and a helpful glossary. The colour scheme is green, white, and black. There are some photos (black and white) and diagrams. The design is successful as a field guide and I found it quite readable, however I think younger readers would prefer more photos. Unfortunately, there is no index, as I can see this text being a ready reference in my school library. Entertaining and informative, I recommend this guide to primary school aged readers and above.
Reviewed by Sharon Seymour