Kelli Anne Hawkins (text) and Beth Harvey (illustrator), The School for Talking Pets, HarperCollins Publishers, September 2021, 336 pp., RRP $16.99 (pbk), ISBN 9781460759202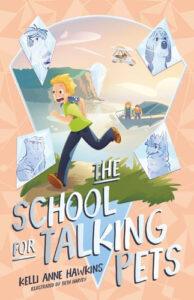 Pets are the source of love, hate, joy, amusement and so many emotions felt by humans. The School for Talking Pets is a story of children who love their pets and regard them as friends, especially when they feel lonely. The School for Talking Pets is the imagined premise of pets talking to their human owners. The main protagonist twelve-year-old Australian boy Rusty Mulligan is desperate for his blue tongued lizard to speak. 'Then we could really, properly talk to one another.'
The book opens with Rusty Mulligan watching an extraordinary international news story. 'Good evening, humans,' said the talking cat from the other side of the world, purring with satisfaction on the TV screen.' The white fluff-ball of a Persian cat with a squished-in face reveals to the world a formerly closely held secret. He introduces Miss Alice Einstein, the headmistress of her school for talking pets. It is a unique school where pets of all shapes, sizes and varieties from mice to llamas are taught to talk. Miss Alice Einstein has decided to announce the existence of her school to everyone. She is running a competition across the globe, to be awarded to five children and their pets. The children must write in twenty-five words or less, why they and their pet should be chosen to attend Miss Alice Einstein's School for Talking Pets. The prize for five of the most deserving and pet-loving children is a week at the school on a secret island in the United Kingdom.
The selected children are diverse and include Braithwaite Kingsly-Smythe from England and his dog Bismark; Maximilian von Zimmerman of Germany and his cat Felix; Akia Tanaka from Japan and her crested budgerigar; Shelby Simmons from the USA and her guinea pig; and most importantly, Rusty from Australia and his blue-tongue lizard Bongo. They arrive at Heathrow Airport.
So the fun and games begin. Who is the tattooed man who takes them to the island? How did the school educate the animals not only to speak, but to study science and mathematics? Why are spies Kyle Summer and Wilhelmina snooping on the winners and their pets? Who are evil Lord and Lady Roderick and how can they use talking animals to take over the world? So many mysteries.
There is humour, mishaps, and friendship in this adventure with its quirky pets. The black and white illustrations add to the fun, especially where all the dogs are drawn sitting at their desks for their algebra class. The sketches of the guinea pig, budgerigar and an assortment of animals are delightful. The full page drawings enhance the story.
The School for Talking Pets suits young readers aged 8+ years.
Reviewed by Susanne Gervay