Trent Maxwell & David Lawrence (text), and Peter Baldwin (illustrator), The Stormy Protest (Maxi the Lifeguard #2), Affirm Press, September 2018, 168 pp., RRP $12.99 (pbk), ISBN 9781925584974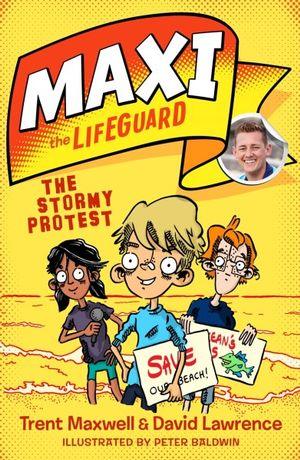 This is the second book in a series about Maxi, an 11 year old boy who dreams of becoming a lifeguard on Bondi Beach. The series has been developed from the experiences of real-life lifeguard and television personality, Trent Maxwell, from 'Bondi Rescue'. So far there are two books available that follow Maxi's adventures with his friends, sporty Rachel and brainiac Felix. The other key characters are school bully Josh, Maxi's grandfather, the quirky Grandpa Bill, and local lifeguard and hero Mick Hawk.
The Stormy Protest begins with a sudden change in weather conditions on Bondi Beach, which results in a number of people needing rescue. After helping the lifeguards, Maxi watches the ensuing storm from Grandpa Bill's, and the next day meets up with his friends to clean up the debris. They discover pollution on the beach and trace it back to a stormwater pipe. When Maxi and Felix try to get the environmental hotline to deal with the pollution they have no success, so they decide to stage a protest instead, organising publicity and flyers.
Local bully Josh manages to make it look like the protest was his idea after his dog becomes ill from the pollution. Precious the dog soon becomes the poster-dog for the protest, but Josh leaves all the work and organising to Maxi. Things become more complicated when Maxi discovers his father's employer, Ned Dodge, a local developer, is behind the pollution. If the protest goes ahead Maxi's dad might lose his job. Torn between doing what is right and protecting his father, Maxi has a difficult decision to make.
The Stormy Protest has a strong environmental message, showing the power of community action, and that anyone can make a difference. It also poses the sort of ethical dilemma that kids can relate to. There are more males than females in the story but the females are active and involved rather than just minor characters. The book is dotted with quirky black and white illustrations and Maxi's adventures are fast paced with plenty of funny moments. This is an easy-to-read chapter book that has some added bonuses: a word search, a two page spread about heat stroke, and a final colour page filled with beach safety tips.
Reviewed by Rachel Le Rossignol