Iris Volant (text) , and Jarom Vogel (illustrator), Boats Fast & Slow, Flying Eye Books, September 2018, 48 pp., RRP $27.99 (hbk), ISBN
9781911171522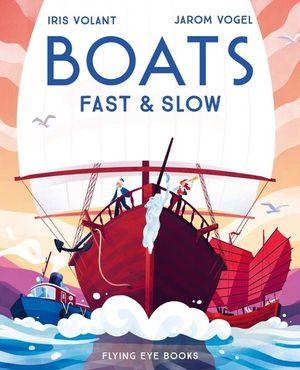 Boats is a large-size picture book that looks at the role of boats through history. Structured chronologically, but also by function, it begins by asking 'what is a boat?', giving various examples of different types, with full page colourful illustrations. It then explores the first boats, how they were made, what they would have looked like, and why they were important to early human settlements. The next section examines how boats were used in war in different eras, including those utilised by pirates and vikings. Following this, the importance of boats for trade is explored before the final section looks at the role of boats in leisure, with information about the America's Cup and the Chinese Dragon Boat Festival.
At the end of the book is a double page spread that provides the semaphore alphabet and mentions that even in the current era of high speed communication semaphore remains in use. The back of the book has an index to the different types of boats mentioned throughout the book, which is also a great visual guide to the various shapes they can have.
Between the various sections are four examples of famous boats. Two are legendary vessels: Ra's barge from Ancient Egyptian mythology, and the Nautilus, from Jules Verne's Twenty Thousand Leagues Under the Sea.  The other two boats discussed are the HMS Beagle, which took Charles Darwin to the Galapagos Islands, and the Spray, on which Joshua Slocum became the first person to circumnavigate the world single-handedly. With plenty of facts and stories to fascinate, told in a simple and accessible way, this is a great resource for a middle-primary classroom. The illustrations are clean, colourful and very appealing. There is not a lot of technical detail for those obsessed with boats, but there is plenty of information for those who want to discover how boats have contributed to human life over the centuries.
Reviewed by Rachel Le Rossignol