Jaclyn Moriarty (text) and Kelly Canby (illustrator), The Stolen Prince of Cloudburst (Kingdoms and Empires #3), Allen & Unwin, September 2020, 544pp., RRP $ 22.99 (hbk), ISBN 9781760875060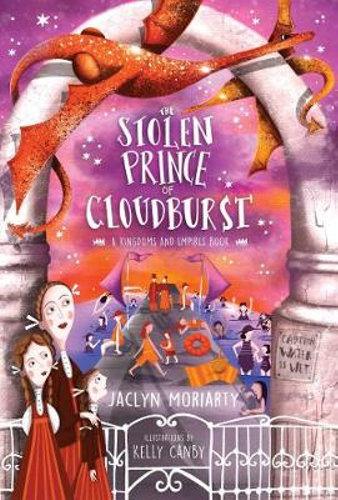 Last year, I got to read and review The Slightly Alarming Tale of the Whispering Wars – Book 2 in Jaclyn Moriarty's The Kingdom and Empire series – and rhapsodised to everyone I came across about it. I finished it and snatched up Book 1 – The Extremely Inconvenient Adventures of Bronte Mettlestone – and was just as charmed. And so, when I was handed a review copy of The Stolen Prince of Cloudburst, I was beyond excited. It did not disappoint.
Esther Mettlestone-Staranise is a little disturbed, when she returns to her boarding school, by the rumours that her teacher has been replaced by an Ogre, but anyone less Ogre-like than tiny, funny Mrs Pollock would be hard to imagine. Esther has other things to occupy her mind, like the two new students, and the appearance of wicked Shadow Mages in the mountains surrounding the school. Something is going on, and Esther may be the only one who can protect the school.
If The Slightly Alarming Tale reminded me strongly of the post-WW2 children's adventures that I loved as a child, The Stolen Prince of Cloudburst took me straight into the boarding school stories of Malory Towers and St Clare's by Enid Blyton. I used to devour those school stories by the truckload, and The Stolen Prince gave me that same delight, but with more depth, more fantastical charm and a more modern sensibility that still sits beautifully alongside the classics.
Esther's quirky and vivid voice is a joy to read, and I love the way Moriarty uses the first-person narrative from time to time to invite readers to question our own reactions to the story. Esther is, herself, a writer and there are nods to the creative choices she makes in telling the tale that could be used to good effect in a classroom reading tied to creative writing studies.
The chapters are shorter than some novels of this length, but that only meant that I found myself staying up later than I'd planned to read "just one more chapter – they're only short", and then getting caught up in the pacing and the plot to read one more, and one more, and… For a young reader who struggles a little with long, unbroken text, they might find that this format is a little more accessible. A more advanced reader will gobble this book down in delight.
The eccentric charm of Esther and her story is given considerable depth by the themes of family, responsibility and awareness that run through the book. There are mysteries around every corner at Esther's school, but the ones that hit hardest are the secrets within Esther's own family, and sometimes it's harder to stand your ground and speak truth to the people closest to you. Facing uncomfortable truth is something that Esther finds herself up against in several ways.
Accepting responsibility, both in acknowledging mistakes and in taking up the duty to fix something, is another thread that Moriarty handles with a deft touch and an empathetic understanding in this book. Children and adults alike all face this in a variety of ways, and this is where Esther's conversation with the reader invites us to think a bit harder about our own assumptions and choices.
As with the other books in the series, The Stolen Prince is grounded in a fascinating, beautifully drawn world that feels solidly real even as the characters face ogres and spellbinders in the schoolgrounds, and the darkly dangerous train journey through the shadow realm.
You don't need to have read the first two books in the series to read this one. Each of the books stands alone, although there are references and characters that pop up to tie them together, and frankly, you're missing out if you don't devour them all.
The first two books in this series have collected, between them, a slew of awards and nominations, and if The Stolen Prince doesn't do the same, I will be shocked. With Christmas and the holidays coming up, The Stolen Prince of Cloudburst is a perfect gift idea for any young readers from about nine to thirteen who love a good adventure with a dollop of mystery and fantasy, or a classic boarding school story. And the best part is, you can borrow it back from them after the holidays and read it for yourself.
Reviewed by Emily Clarke