Sofie Laguna (text) and Marc McBride (illustrator), The Song of Lewis Carmichael, Allen & Unwin, August 2021, 192 pp., RRP $16.99 (pbk), ISBN 9781760878573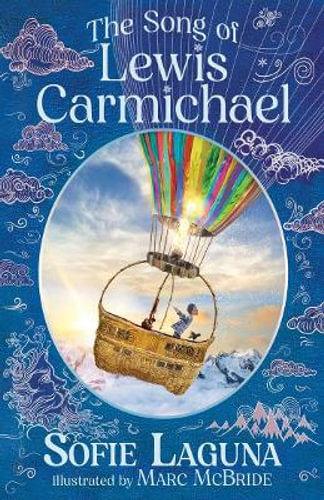 Matthew is obsessed with the Arctic and the North Pole and surrounds himself with books about them. His parents urge him to play with other children from school, but he is shy and feels he is unable to somersault, kick the football and climb the way they do. Even at the park he sits by himself and reads books about the Arctic. While at the park one day, he shares his muffin with a crow that sits on the seat behind him. That night, Matthew hears tapping at his window and there is the crow. It introduces itself as Lewis Carmichael and leads Matthew from his room to a hot air balloon sitting on the roof. That begins the adventure of a lifetime as the two fly to the Arctic Circle and encounter many challenges both on the way and while there. Lewis guides Matthew, giving advice and direction – and singing an encouraging little song all through. He can be read as a figment of Matthew's imagination or as his alter ego. He is the brave side of Matthew, allowing him to be adventurous rather than the cautious boy he usually is. He is compassionate and courageous, healing a baby polar bear cub, for example, while putting himself in danger. Lewis's broken wing, that prevents him from flying, is a metaphor for Matthew's inability to 'spread his wings' and take risks. Eventually, and perhaps inevitably, Lewis and Matthew must part but this happens when Matthew no longer needs him as he has learnt to be independent and to recognise his own capacities.
This magical realist story is also one of love and belonging. Matthew has heard snatches of conversation between his parents that he has misinterpreted and misunderstood. He believes they want another child, and this belief has put him in the greatest danger in the Arctic. When he is home, however, he is able to speak openly to his parents about what he has felt, and they are able to reassure him of their love for him and their acceptance of him as he is – and that they have no desire to have another child. Without overstating it, this episode in the book makes clear the importance of communication between parents and children.
The book is full of lyrical descriptions of the animals and the landscape of the North Pole and the Arctic. McBride's beautiful illustrations are interspersed throughout the book and enhance the written text. There is also an illustration forming each chapter head, providing a visual clue for at least part of that chapter's content. Also interwoven throughout, are facts about the Arctic and the North Pole that are not only informative but also form part of the character development as it is usually Matthew who provides these facts, facts he has learned from his intensive reading about the area.
Although so little time has passed – both in the real world and in that of the setting of the balloon trip – we see Matthew transform. The final chapter reveals the boy he has become. This is an adventure story with a difference although it has a classic feel to it particularly the elements of the boy pitted against the natural world. It will be enjoyed by middle-primary readers and will also be one of those read-alouds where the listeners always ask for 'just one more chapter'.
Reviewed by Margot Hillel