Carlie Gibson (text) and Tamsin Ainslie (illus.), The Sisters Saint-Claire and the Royal Mouse Ball, Allen & Unwin, October 2018, 48 pp., (hbk), ISBN: 9781760523640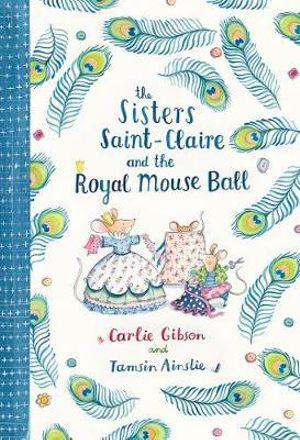 HRH Queen Julie S. Cheeser is holding a ball, and cordially invites the village of ladies and gentlemice to her palace for a Sunday of fun.
But what does one wear to a Royal Mouse Ball?
As excitement turns to dread, mice one and all, politely decline the invitation to the ball.
Dismayed, Queen Julie S. Cheeser enlists the help of the Sisters Saint-Claire to hold a ball to remember, by celebrating her guests' individual style.
Along with the help of their dear Grand-maman, the Sisters Saint-Claire cut, pin, and sew to create their own unique little outfits that dare to delight. There's a red tartan suit, culottes with a vest, a peacock print skirt and a hat made of fruit!
Carlie Gibson and Tamsin Ainslie join forces once again, in a follow up to The Sisters Saint-Claire about five mouse sisters with a passion for fashion and family. The illustrations and French setting are somewhat reminiscent of Ludwig Bemelman's Madeleine series, and has a quaint charm that took me back to my childhood. There's a nostalgia about this picture book that will leave you with a yearning to be near your loved ones, or at the very least, have a fabulous party!
The theme of sisterhood and friendship in The Sisters Saint-Claire and the Royal Mouse Ball shines through, and will resonate particularly with girls in early primary. A stop at the mouse sisters favourite stores was a visual treat, especially Louis Crouton's Shoe Shop!
A bonus hands-on activity at the end of the book making finger puppets is sure to keep everyone entertained.
This charming, rhyming story and beautiful illustrations lifts the soul with its heart-warming message about friendship and community, and the value of celebrating who you are.
Reviewed by Shelley Stephens