Imogen Greenberg (text) and Isabel Greenberg (illustrator), Athena: The Story of a Goddess, Bloomsbury Publishing, September 2018, 64 pp., RRP $27.99 (hbk), ISBN
9781408892497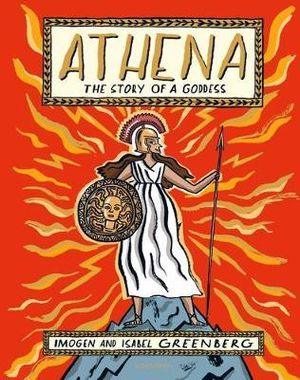 I had to admit before reading this book, I had my doubts that a Greek mythological story would make good reading material for children. I was pleasantly surprised.
As the title suggests the book follows the adventures of Athena; daughter of Zeus; born from literally a splitting headache. It is nice to see another children's story with a strong unique female character whose cleverness and eventual humility in accepting her mistakes are the qualities emphasised. We also meet some other equally interesting, talented yet ultimately flawed characters who are handily included as a cast of characters with a brief introduction at the beginning, making for easy reference throughout the book.
The story is presented in a semi-graphic novel style, which allows for the characters to comment on the situation in which they find themselves in. I found these comments to lend a light hearted, humorous tone that would appeal to children, and that further adds to the relatable character of the Gods and semi-Gods. The graphic novel style also breaks the rather lengthy story into small easily digestible chunks of text interspersed with images, suitable for middle-primary children who are progressing to longer texts.
The book is a whirlwind of adventures, Athena and her fellow characters are constantly bombarded with varied challenges including; how to get rid of the troublesome one-eyed Cyclops; competing in a weaving contest and just plain getting back home to your family. You could never accuse the Gods of living a boring life. At times it seems like there is too much going on, however this haphazard wildly imaginative plot manages to work by the authors also blending in the elements of emotions, personalities and relationships throughout. So whilst the Greek myths are very old stories the Greenberg sisters retell them in a very fresh, modern and engaging way.
Apart from entertainment value, 'Athena' would make a good introductory text for students about Greek mythology. The story includes and explains their relationship to each other of many of the well-known Gods; Zeus, Poseidon, Aphrodite, Perseus, Odysseus. It also touches on some of the better-known Greek myths including the killing of Cyclops and the Trojan horse.
Reviewed by Julie Bertola