Peter Frankopan (text), and Neil Packer (illustrator), The Silk Roads: A New History of the World: Illustrated Edition, Bloomsbury Publishing, November 2018, 128 pp., RRP $27.99 (hbk), ISBN 9781408889930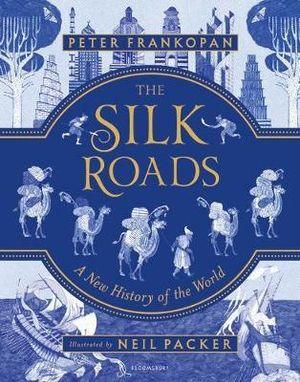 In school, I enjoyed history – learning about the past and the backstabbing, political shenanigans and marriages – but I think I was in the minority. History earned its fair share of eye rolls due to the dry textbooks and lessons that maybe went on for too long.
Peter Frankopan is a history buff, and when you read the introduction you can tell the joy he gets from history, and from teaching others about it. So right away, readers get a good sense of how much he enjoys the subject matter which he imparts effortlessly in his writing.
I don't quite remember learning about the Silk Roads in school, so this book was illuminating in that respect. Frankopan covers a wealth of aspects of the trade routes from faith and religion through slavery and through war, concluding with the new Silk Roads as they stand now.
The writing will draw readers in, taking them on a journey through history and the Silk Roads in an accessible way for readers. The accompanying art is quite simply beautiful and coupled with the cover gives this almost the look of a coffee table book.
After I finished, I realise Frankopan weaved a wonderful narrative about the Silk Roads, and all that seemed to be missing was a character to follow through the chapters.
Reviewed by Verushka Byrow