Pamela Rushby, The Secret Battle, Christmas Press, October 2021, 180 pp., RRP $17.99 (pbk), ISBN 9780648815426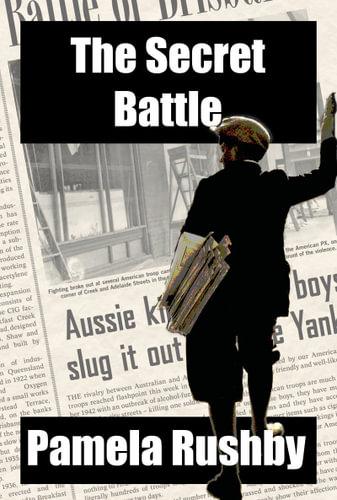 It's 1942. Over two days, American and Australian servicemen fought against each other, rioting in the streets of Brisbane, in an event that would become known as "The Battle of Brisbane". When nine year-old newspaper seller Roddy helps an injured American serviceman he never expects that the battle will be covered up – a wartime secret, never to be reported in the newspapers he sells. Nor does Roddy expect that his life will change forever…
The Secret Battle is the latest release from Pamela Rushby, author of 2020's The Mummy Smugglers of Crumblin Castle. It's a fascinating fictionalised account of the true events of 26 November 1942, as seen through the eyes of Roddy, a likeable kid who lies about his age in order to land the job of his dreams – a news boy for the Daily Telegraph.
The story is told in the first person from Roddy's perspective – this allows Rushby to add a distinctive tone to the voice of the writing and will certainly allow young readers to empathise more with him as he struggles to find his place in the world. It helps us to see events unfold from his point of view – the perspective of a child – and for his thoughts and feelings to be expressed in his own words.
Fiona McDonald's illustration of Roddy on the first page lends a nice touch, a sense of time and place and gives us a picture of the main protagonist to carry in our imaginations as we read about his great adventure.
Rushby writes with a uniquely Australian voice and uses carefully crafted language to set the scene and create the atmosphere of wartime Brisbane, a period of great upheaval and uncertainty. A paced and measured work from an accomplished author, this will suit junior middle-grade readers with an interest in history, and in stories about children their own age who work to overcome the challenges they face.
Reviewed by Christian Price