Haydn Crespan (text) and Damien Crespan (illustrator), The Adventures of Triz the Babysitter, Boolarong Press, May 2021, 32 pp., RRP $19.99 (pbk), ISBN 9781760526894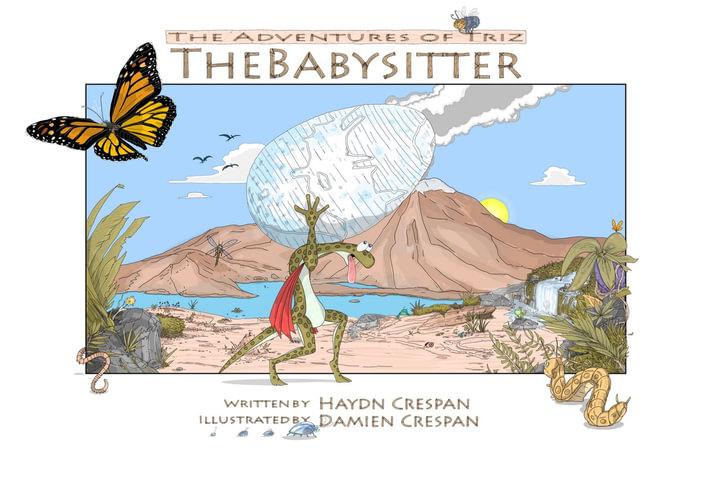 The Adventures of Triz the Babysitter is a fun and quirky story. The book was written and illustrated by two brothers: Hadyn and Damien Crespan. They are both on the Autism Spectrum, which has presented many challenges in their lives. The brothers have used their collaboration as a way to reflect the difficulties they have experienced with Asperger's syndrome.
The story is set in prehistoric times and stars Triz the tiny gliding lizard as the hapless babysitter. Triz is given babysitting duties for his best friend's (a prehistoric bird) egg. Triz believes he is up to the task, but as soon as he is left alone with the egg (well, after an hour of climbing a tree to reach the bird's nest) the egg hatches! And so follows a madcap adventure as Triz tries to keep up with the curious baby bird. Triz is willing to put his life on the line to protect the baby and works hard to be the very best babysitter.
The lively illustrations have a comic book and graphic novel feel; the pictures are in a frame format and have accompanying sound effects. Damien the illustrator is colourblind, which appears to have influenced the earthy-toned and subdued colour palette. The illustrations themselves are incredibly detailed, which makes for an immersive prehistoric world. Excellent for children who love prehistoric animals and dinosaurs.
This book is recommended for children aged 2 to 9 years. Children of all ages will enjoy the storyline, the detailed (and often hilarious) illustrations, and the prehistoric setting. The Adventures of Triz the Babysitter is a very unusual book, but it has a lot of heart. It's a story that teachers and care givers will genuinely enjoy sharing (again and again) with their little ones. It's funny, surprising, and rather charming.
Reviewed by Clare Mellor