Lize Meddings, The Sad Ghost Club, Hachette Australia, January 2021, 208 pp., RRP $22.99 (pbk), ISBN 9781444957358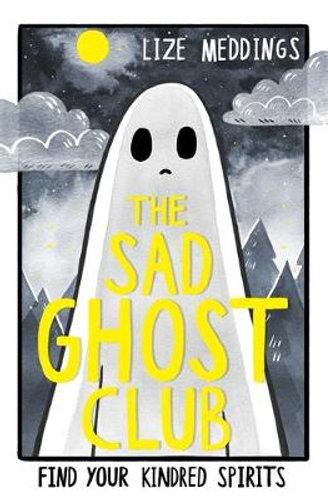 The Sad Ghost Club by Lize Meddings is a graphic novel centred around mental health. The protagonist, SG, agonises over going to a party or staying home and working on an essay. Eventually they decide to go to the party but feel very out of place until they spy another sad ghost across the room. The two ghosts leave the party together and after sharing their stories and unique perspectives, SG realises they feel better.
The author has tackled some of the issues surrounding mental health in a unique and brilliant way. By using the idea of a sad ghost to depict individuals suffering with their mental health, the author softens the stigma around them, and with the idea of a club, she illustrates that no matter what you are feeling, there are others out there who are feeling the same and finding your tribe of ghosts can help.
The black and white illustrations throughout are simple and compelling. The comic book style is also accessible and non-threatening. This format and the way the story is told should resonate with teens and therefore may create a way to open the subject of mental health and the options out there for someone with similar feelings. It raises the idea that it's okay to feel sad and anxious some of the time, but not if those feelings are ruling your life.
Even though the story itself is very simple – a sad ghost struggles through what many people would consider a fairly ordinary day, SG's internal monologue of spiralling self doubt and indecision is powerful – I'll fail and everyone will laugh. My essay will be rubbish and then I'll FAIL. And maybe get kicked out of school. And never get a job. Or make any money… and OMG, I'll have to live with my parents forever. These internal thoughts and the awkward social situations depicted in the book really bring authenticity and a sense of truth to the story.
The Sad Ghost Club is not only a book but has become a movement designed to raise positive awareness around mental health. They aim to share stories that cover all aspects of mental health, the good and the bad. Their website is thesadghostclub.com. Through their comics, apparel and merchandise they try to provide an important form of validation and understanding for all the 'ghosties' out there. Starting conversations, giving ghosties a way to express their feelings, understand they are not alone and it's okay to feel sad is a major part of what they do. This book is a product of that.
Raising awareness about mental health and encouraging kids to have conversations about how there are feeling is important. This book presents a different perspective and provides a solid opportunity to start a conversation. Ideally suited for teens although its simple format and story could easily be handled by a slightly younger audience.
Reviewed by Renee Mihulka