Shannan & Tayla Stedman, Lola Out Loud, The Recipe for Disaster (Lola #2), Scholastic Australia, September 2021, 240 pp., RRP $15.99 (pbk), ISBN 9781760974428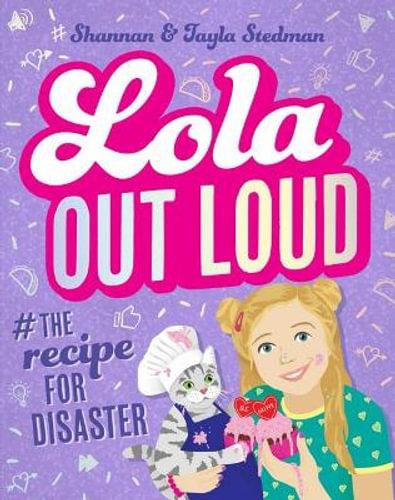 #The recipe for disaster is the second book in the Lola out loud series about a lively, fun loving and creative 10 year old vlogger. It's school holidays and with Lola's parents going away for the holidays and exuberant and glamorous (but not entirely responsible) Aunt Helen coming to stay, Lola anticipates reporting the "best school holidays ever" to the 11.5k subscribers of her Youtube vlog.
But things don't turn out as Lola hoped. Aunt Helen arrives in a gloomy mood, nursing a broken heart, and the holidays look like being anything but exciting. Lola isn't so easily deterred, though, and instead produces videos of her ill-conceived gambits to lift Aunt Helen out of her misery. Eventually, the solution seems to be in producing a special match-making vlog inviting expressions of interest to date Aunt Helen. Sorting through the many applicants, Alexandro seems the perfect match and Lola hatches an elaborate ruse to get Aunt Helen to meet him. But Lola is in for an astonishing surprise when Alexandro arrives, giving rise to a new conundrum to be resolved.
Lola's character is audacious, daring and funny and the story is fun, fun, fun. It's filled with Lola's fanciful escapades, imaginative fantasies, and creative endeavours. In a playful way, the lines between reality and fantasy are blurred. From a cat that is a rock star and loves cooking, to many improbable scenarios, to the lack of consequences for Lola's failed hare-brained schemes, to fun and creativity in video creation prioritised over online safety, this book is clearly not meant to be taken seriously. The general tone of the book is upbeat, funny, and lively with fun doodles and cartoon style drawings interspersed through the text.
I recommend #The recipe for disaster as a lighthearted read for children aged 8-10 years. It's easy to read and would suit reluctant readers.
Reviewed by Barbara Swartz