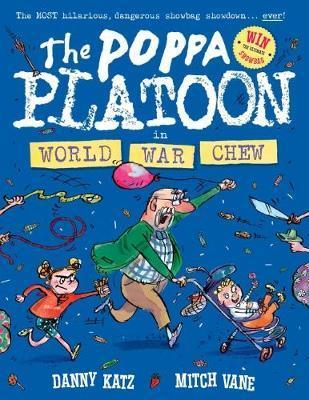 Danny Katz (text), Mitch Vane (illus.) The Poppa Platoon in World War Chew, Scholastic Australia, April 2018, 192pp., $9.99 (pbk) ISBN 9781742769189
This story is sure to resonate with anyone who's ever bundled their little ones into the pram for a really big day out. It takes serious effort to keep small children safe and entertained in busy, crowded places and the poppa in this story does a stellar job, leading his platoon -grandchildren Abbie and baby Flynn.
The platoon have a great time at the royal show, enjoying fairy floss, ice-cream and sideshow alley. The kids are full of sugar, poppa is exhausted and their bus home is almost due, but Abbie is desperate to buy her favourite showbag. And not just any showbag – the one at the corner stand, as far from the entrance as you can get! Adult readers will also get a giggle at how this scenario plays out.
The book is a quick, fun read, perfect for a reluctant reader or those just looking to be entertained. The text changes size and shape throughout to emphasise shouting, screaming and even desperation, while funny, black and white drawings on almost every page perfectly capture the determined enthusiasm of the "poppa platoon" to get through every must-do on their list.
This book is the first in a new series by Melbourne couple Danny Katz and Mitch Vane. The Poppa Platoon in Operation Dessert Storm is due to be released later this year, with The Poppa Platoon in Saving Private Rabbit due out in 2019.
Reviewed by Carissa Mason