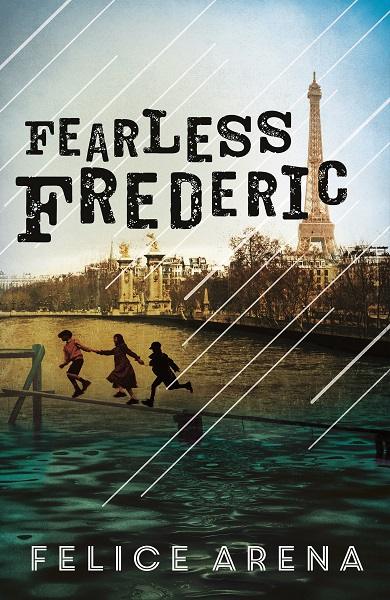 Felice Arena, Fearless Frederic, Penguin Australia, 2 April 2018, 176pp.,  $16.99 (pbk),  ISBN: 9780143786757
As the floodwaters rise, Paris needs a hero… Frederic and his friends will have to battle an escaped zoo animal and fight off pickpockets and looters. But, as the danger escalates, can he find justice for his father and discover what courage really means? 
Fearless Frederic is a junior adventure novel, set in Paris amidst the chaos and upheaval of the Great Flood of 1910.  Our titular hero is a working class lad who lives with his mother and struggles to eke out a meagre existence following the tragic death of his father a year earlier.   As the rain keeps on raining, Arena paints us a vivid picture of what it would have been like living in turn of the century Paris (not the last turn, the turn before that).
The story also gives a glimpse of the class differences that existed – while the rich and privileged are more or less untouched by the calamity of the flood, the lives of the poor are virtually destroyed.
Arena does a great job of successfully capturing the atmosphere and aesthetic of early twentieth-century Parisian life, as seen through the eyes of a boy on the verge of becoming a man.  The characters are very believable, and we definitely relate to Frederic's strong sense of justice and fairness, and his frustration over events beyond his control conspiring to direct the course of his life.  Undoubtedly it is the friendships that are forged in the heart of the storm, and the trust that he places in his new comrades, that give him the strength to do what he must in order to see justice prevail.
Arena's style keeps the story moving at a great pace, and keeps the reader turning those pages.  It is a story of intrigue and adventure, reminding me of some of the classic junior adventures of old.
A fine piece of eye-opening historical fiction (I had no idea the flood had actually happened), an engaging and well-written story, and a chance to learn a couple of basic phrases in French!  Would be best suited to readers in the 11-14 age bracket.
Reviewed by Christian Price