Jackie Merchant, The Pony Question, Walker Books Australia, July 2020, 256 pp., RRP $16.99 (pbk), ISBN 9781760651640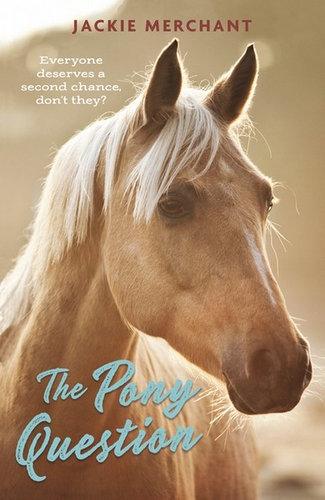 Essie and her mum live on the edge of a small country town, where her mum runs a small business restoring and selling old furniture. They moved from Sydney when her parents divorced – her father stayed in the city and has since remarried. Essie used to ride horses and compete, but after an incident involving her very competitive father, she sold her pony and hung up her riding boots. However, at an estate sale she and her mother accidentally buy a neglected, starved pony, and to save her from slaughter, they take her home and rehabilitate her. In working with this pony, Essie is forced to confront her past and her poor relationship with her father.
This is a very engaging read – perhaps it is the compelling nature of animal rescue, but I did not want to put this book down from the moment I started reading it. Essie is an authentic and relatable main character, who shows depth and growth throughout the story. The secondary characters are likewise three dimensional and fill out the story well.
From a horse person's perspective, it is great to see aspects of natural horsemanship finding their way into the mainstream and into "horse stories". Having said that, this story is not just about horses, but about families, forgiveness, and growing up. It has broad enough appeal that it should be enjoyed by the non-horsey as well. Recommended for public, upper primary and lower secondary school libraries.
Reviewed by Rebecca Kemble