Anna Morgan, Before the Beginning, Lothian Children's Books, September 2020, 240 pp., RRP $19.99 (pbk), ISBN 9780734419651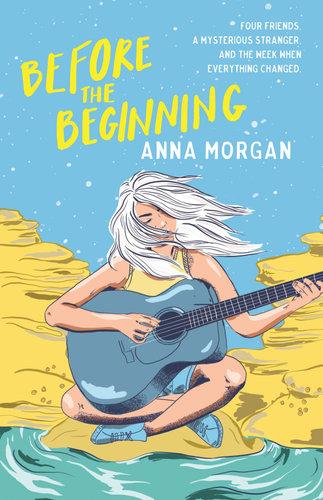 Before the Beginning uses a very familiar coming of age trope employing the backdrop of 'schoolies week', however, it also adds several fresh layers that result in an unsettling, mercurial read for teenagers.
Instead of one protagonist, we have four narrative voices, sometimes contradicting, sometimes affirming the other points of view, while simultaneously reflecting on their own interior selves. This is a particularly effective framing device, since Grace, brother Casper, and his best friends Elsie and Noah believe they know at least one other person really well and are happy to offer insight and judgement into motivations and actions. Naturally, these assumptions are challenged and there's at least one dramatic stand off between most of the combinations by the end of the novel. The four characters are each given an extended section—first Grace, then Noah, Casper, ending with Elsie—and this helps to not only drive the narrative, but also to loop back and offer a different perspective, so the events are revisited and re-evaluated, building layers of meaning.
There are also gaps because not everyone witnesses every event, especially when it comes to another unexpected element of the plot – the inclusion of the mystery person, Sierra, who is the catalyst for most of the action. She meets the four at a party on the first night of celebrating the end of school, basically seducing them all to join her on an uninhabited island off the coast of South Australia. Who is she? How is she able to convince them to be so impulsive? And how does she continue to hold them in her thrall? These questions ensure readers are immersed in what essentially devolves into a out of time experience with each character revealing secrets, engaging in deep conversations, and soul searching – rites of passage for many young people of this age, under the influence of alcohol, intimate moments under the stars and the uncertain future staring them straight in the eye, unflinching and resolute.
The other interesting component is a number of random insertions, offering the voices of mythical sea creatures, such as the siren and the mermaid, plus several I hadn't heard of, such as the white trout and the rusalka, for example. As well, in between each of the four characters' parts, readers are privy to excerpts from newspaper reports from 25 years ago, building a picture from the past that will impact on the present. These features provide a framework around the mysterious Sierra and slowly develops the story from a teenage identity novel into one of suspenseful tension and danger. Towards the end, the action picks up and the teens find themselves fighting for their lives. It's a slow inevitable progression, however, with the hints dropped, it shouldn't be a shocking conclusion for astute readers.
Morgan touches on the topical themes of anxiety and confirming to expectations, the importance of friendships and how to hold on to them, (and conversely recognising when to let go), and a theme barely touched in YA fiction, faith and religion. It's significant here, jutting up against the magic realism and anti-lgbt proponents who use charism to undermine and to shame people still figuring out their sexual identity. While there is some romance, it doesn't dominate, another unusual feature of a young adult book.
Before the Beginning will appeal to older teen readers who are looking for something that is familiar but also a little bit different. It conforms to what we are used to in YA fiction, but it also challenges and surprises. All four protagonists are flawed, authentic and struggling to deal with the big questions of this generation: How do I move forward in these uncertain times? How can I be who I am without my friends and their support? What makes me and keeps me strong? Even without any mention of the crises of 2020, this book will still speak to young people today.
Reviewed by Trish Buckley