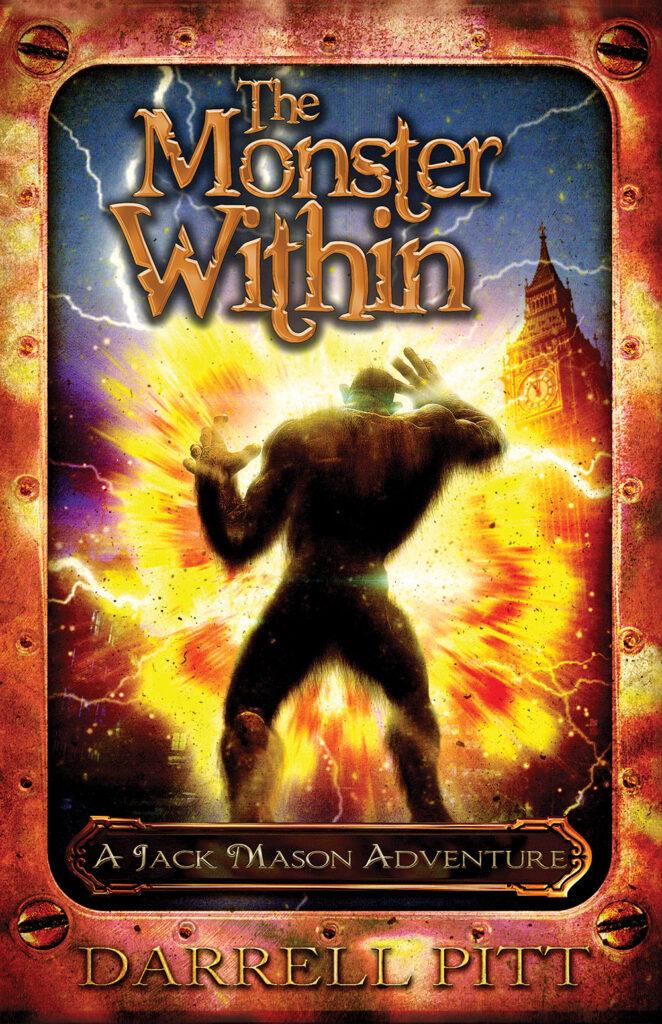 Darrell Pitt,  The Monster Within (Jack Mason Adventures #4),  Text Publishing,  22 April 2015,  254pp.,  $16.99 (pbk),  ISBN 9781922182876
Sailing over cities and seas in an airship called the Lion's Mane, avoiding bombs by a hair's breadth, climbing church spires as they are collapsing, Scarlet and Jack seek out the horrid perpetrators of crime, in this fourth title in the Jack Mason Adventure series. Jack and Scarlet are assistants to Mr Doyle, a steampunk Sherlock, and have participated in his cases since book number one in the series, The Firebird Mystery. There are many almost fatal adventures and a plethora of clever escapes from dreadful kidnappers as awful monsters appear to threaten civilization. There are also conspiracies developed in secret laboratories, corrupt officials, and untrustworthy men who pretend to be friends. Most of the story is set in London, but there is some time spent in Spain, and while this is an imagined time, women still don't have the vote, and female liberation is in its early stages. Scarlet, of course, is right behind the suffragettes.
This is old-fashioned adventure, with likeable and witty heroes and heroines, no parents to advise caution, and plenty of action. Not all of the plot lines lead to the expected outcomes, and Jack and Scarlet are surprisingly adept against their adult enemies, but this is all good fun.
reviewed by Stella Lees