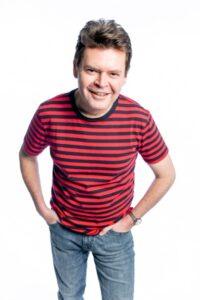 Darrell Pitt, author of the new Jack Mason Adventure series tells Reading Time why writing The Firebird Mystery made him laugh and cry – and why family is so important – even to those living in a steampunk Victorian London.
The Game's Afoot! 
What's it like writing the Jack Mason books?  Someone was a little shocked recently when I told them that I've literally shed tears of laughter as well as sadness whilst working on the books.  For example, this scene when our intrepid heroes meet the Prime Minister:
Jack felt nervous shaking the hand of the man in charge of the United Kingdom, but Mr Doyle appeared at ease.  Scarlet attempted a curtsey, but only succeeded in lurching headfirst into the floor. 
'My dear!' the prime minister said, assisting her to her feet. 
'Sorry.' Scarlet's face was as red as her hair.  'New shoes.'
Well, I suppose we all have problems with new shoes.
But let me take you back to how it all began.  I had just started high school when I read my first Sherlock Holmes story.  It was A Scandal in Bohemia and I instantly fell in love with Arthur Conan Doyle's wonderful creation.  I suppose it's only natural that I channelled Holmes when I started writing the Jack Mason adventures.
In The Firebird Mystery, Jack Mason is a fourteen year old orphan.  He goes to work for Ignatius Doyle, a consulting detective who bears a striking similarity to Sherlock Holmes.  They are approached by Scarlet Bell, a young suffragette, to search for her missing father and are soon plunged into a centuries old mystery involving Leonardo da Vinci, a secret society and the threat of world war.
All this takes place within an alternative steampunk history, a place where airships rule the skies, towers stretch into outer space and electricity is a mistrusted technology.  One power source rules this world – steam.
The Jack Mason adventures have something for readers both old and young.  Mature readers may notice some subtle – and not so subtle – references to the world of Victorian literature.  There are also a host of historical figures that have been given new histories and new roles.
Cliff hanger endings and daredevil stunts abound for younger readers.  Boys in particular like Jack Mason.  In our modern era of computer games, instant communication, Facebook, Twitter and the internet (which is important for sharing cat pictures and starting arguments with complete strangers), young people need to be engaged from page one and that's what I've tried to do with the series.  It's as if you threw Tintin and Indiana Jones into a blender.
But Jack, like all of us, isn't without his baggage.  He and his parents were acrobats in the circus before they were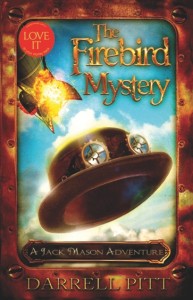 killed in a tragic accident.  After that, he spent time at Sunnyside Orphanage before working for Ignatius Doyle.
But Mr Doyle is also an orphan, in his own way.  His son was killed in the war and not a day goes by that he doesn't think about him.  Scars like that never heal.  Not fully.  And this brings me back to my point about tears of joy and sorrow.
Someone asked me one day what had happened to Mr Doyle's wife.  I had long decided that she had died of cholera.  That day as I was writing The Firebird Mystery, I was struck by what that would have been like for Ignatius Doyle.  First losing his wife to cholera, then being faced by the double tragedy of losing his son.  Before I knew it, I had tears running down my face.
Yes, I know he's a fictional character.  But don't these sorts of tragedies happen every day in real life?  And how do people go on?  How do people face life after such a loss?
And in that lies the underlying theme of the Jack Mason adventures.  Ultimately, the books are about family.  Jack and Scarlet and Mr Doyle aren't related by blood, but they don't need to be.  There are all different kinds of families in this world and it's these familial relationships that keep us going when life seems too hard.
I put Jack, Scarlet and Mr Doyle into some terrifyingly dangerous situations, but that's because I love them.  And don't they say you always hurt the ones you love?  The second book in the series, The Secret Abyss, will be out in July with the third book due for release in November.
To quote another great detective, 'The game's afoot!'
Read Margot Hillel's review of The Firebird Mystery in the Older Readers review section.