Ursula Dubosarsky (text) and Andrew Joyner (illustrator), The Magnificent Hercules Quick, Allen & Unwin, August 2021, 96 pp., RRP $4.99 (pbk), ISBN 9781761065712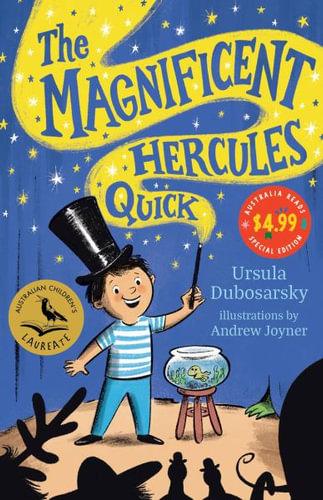 Hercules Quick dreams of being a magician but to do that, he has his eye on the most magnificent box of magic tricks in the window of the local toy store. He plans to save up for it by doing odd jobs for his neighbours in his apartment block, including lending a hand to Professor Calamari and doing some early spring-cleaning for Queen Claude. Even with all his hard work, he doesn't have quite enough money, but none of that matters when something else very magical happens.
This is a whimsical, funny story with eccentric characters all led by the enterprising and helpful Hercules. Andrew Joyner's illustrations are equally fun with lots of details to pore over. This book by the Australian Children's Laureate, Ursula Dubosarsky, is divided into short chapters, which makes it perfect for newly independent readers.   
Reviewed by Deborah Abela