Victoria Mackinlay (text) and Beth Harvey (illustrator), The Bark Book, HarperCollins Publishers, July 2021, 32 pp., RRP $19.99 (hbk), ISBN 9780733341397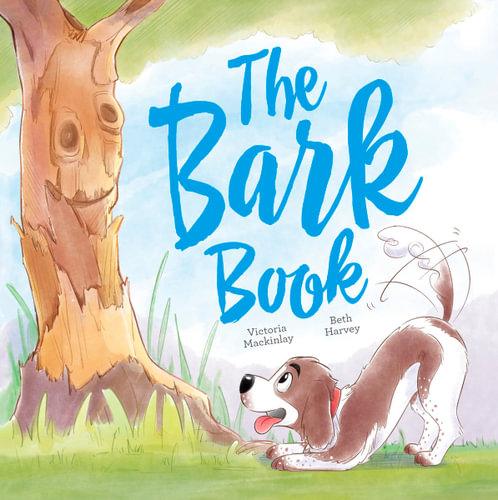 The bark book is a delightful picture book that playfully refers to the two meanings of the word 'bark' in telling a story about a dog's walk. It is written by emerging author Victoria Mackinlay who won awards for her first book, and is beautifully illustrated by Beth Harvey who is the Animation Director of the Bluey TV series. I expect that this extraordinarily talented pair have another winner with "The bark book".
The fun and mischief of the dog's walk is brilliantly told with short phrases – usually no more than two words – which reference either the dog or tree bark. The brevity of the text with rhyming words and the repetition of the word "bark" creates a satisfying beat and rhythm and also supports beginner readers to read it independently.
Having so few words in the text works well because the illustrations of the dog 's energetic and expressive body movements and facial expressions tell so much about its experiences and reactions during the walk. The gorgeous dog character exudes energy with authentic body language that dog owners will recognise. It occupies front and centre stage in the illustrations which are set against a background of the soft, natural colours of the park environment. And the endpapers of a huge, beautiful park tree are lovely.
Beyond the storyline there are other interesting and interactive elements. The homonyms and word double meanings in the text provide interesting discussion points. And there are details and hidden objects in the illustrations for readers to discover. Can you see what's in the tree trunks or find words hidden in the scribbly bark?
This picture book is quite perfect for independent reading by beginner readers or for pre-readers to join in a shared reading. I recommend it highly for any kids aged 2 to 6 years and especially for those families that love dogs.
Reviewed by Barbara Swartz