Edwina Wyatt (text) and Katherine Quinn (illustrator), The Magic of Magnolia Moon, Walker Books Australia, September 2021, 160 pp., RRP $19.99 (pbk), ISBN 9781760652722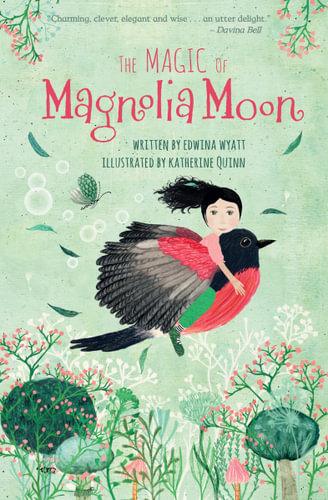 Magnolia Moon sees magic in all the most interesting places – a bubble, a book of fairytales, a tree – but getting anyone around her to listen to her and see it too is hard sometimes. Magnolia finds magic everywhere, and some of it works in surprising ways, like the Green Magic potion that Magnolia makes for her best friend, Imogen May, so that she won't be invisible to everyone at her new school. Or the Mind Magic when Magnolia becomes convinced that she can foretell the future. The real magic, though, would be the magic that could help Magnolia's friend Reuben smile again after his parents' divorce.
Magnolia shares the ups and downs of starting a new school year and trying to make a good first impression, and dealing with her best friend moving away, making mistakes, and helping friends. Each chapter is its own vignette, and very easy to read and slide into, although they fit together into an overall arcing story. The gentle charm of The Secrets of Magnolia Moon is continued in The Magic of Magnolia Moon, and I found myself going back to re-read both of these books just for the delight of it. 
Katherine Quinn's black and white illustrations throughout the text add a lovely dimension and make it visually appealing and endearing for young readers. The text itself is also well set out and spaced for that transition from junior readers and picture books into more complex texts.
The true magic of Magnolia Moon, for me, though, is the charming language and beautiful, sometimes humorous, descriptions of the world through Magnolia's eyes, and the reminders of the deeper magic in the world, without the author ever becoming didactic about it: The real magic was the stuff that you couldn't see. Like true love and kindness. Forgiveness, bravery and second chances. They were the bits that Magnolia loved best of all. Those and the giant toadstools. Those were real – she had seen them growing behind the toilet.
Young readers of seven to ten with a sense of wonder and imagination are going to love Magnolia Moon's stories, and they are perfect for bedtime reading, with just the right amount of wry humour, sweet charm, and quirky happenings.
Magnolia invites readers to see the world around them in a different way and take delight in it. What we all need sometimes is a little bit of Magnolia Magic.
Reviewed by Emily Clarke