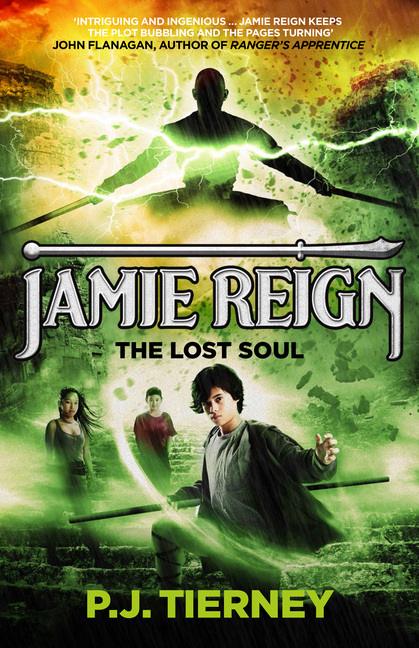 P. J. Tierney,  The Lost Soul (Jamie Reign #3),  HarperCollins,  23 March 2015,  416pp.,  $16.99 (pbk),  ISBN : 9780732295219
Jamie and his friends Wing and Jade have set off with Mr Fan on a seemingly impossible quest. They seek an ancient legend that will help return Jamie's lost soul and provide the power to heal Wing's deteriorating wounds. To complete this task they must travel upriver through the lands of Guangzhou. As a believer in reincarnation Jamie must access his knowledge of his former lives and use his present intuition to piece the puzzle together. Where is the relic they seek? Will Jamie's Spirit Warrior skills return? With pirates and boat chases aplenty the story is a fast paced adventure!
The combination of characters Tierney has created made me remember the 1984 movie The Karate Kid.  I found the similarities between Daniel and Jamie and Mr Miyagi and Mr Fan were reinforced almost every chapter! Both mentors are passionate believers in peace and have the kung-fu-quiet-warrior way about them and similarly the young boys are learning their physical and spiritual path in life while trying to avoid the baddies!
The Lost Soul is the third in a series and the adventure begins where the previous appears to have left off. While I sought the previous two adventures at my local library I was unable to access them and I felt that this had a definite impact on my understanding and enjoyment of this book. As such, I found parts of the story confusing and while I could piece together many elements, others remained unclear to me even after I completed the book.
Studying Asian cultures or planning an overseas trip to China? The Jamie Reign series with its themes of reincarnation, spiritual paths and martial arts would be a supporting and fun fictional read.
reviewed by Emily Meldrum