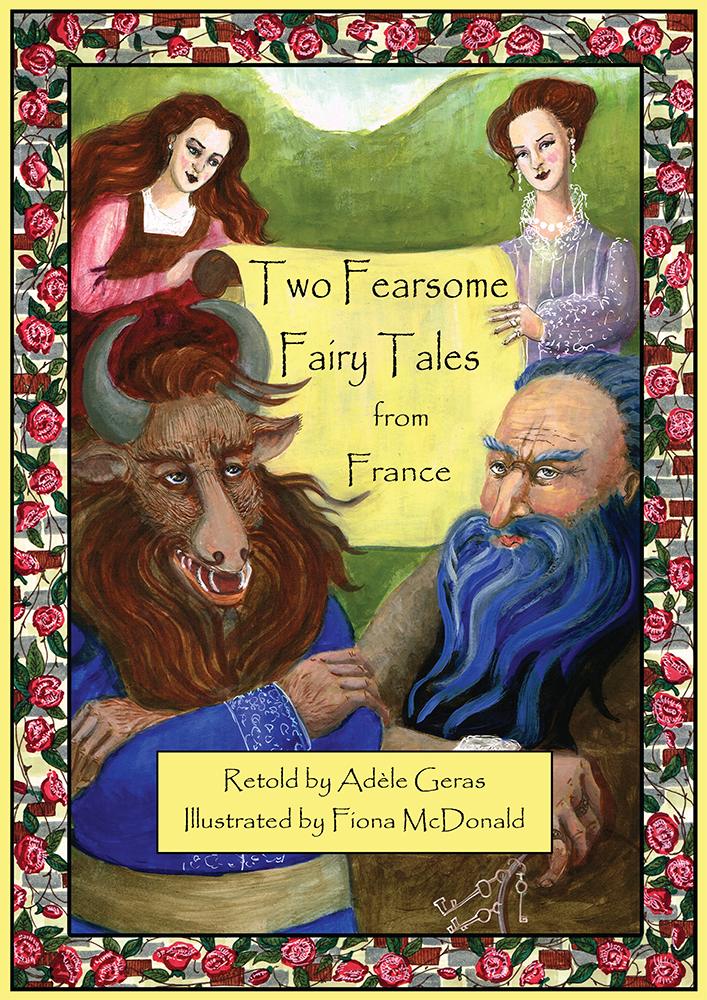 Adele Geras (text) Fiona McDonald (illus) Two Fearsome Fairy Tales from France, Christmas Press, 1 May 2015, 32pp., $19.99, (hbk),  ISBN 9780992283841
The traditional French fairytales Beauty and the Beast and Bluebeard are beautifully retold by Adele Geras in this attractive picture book. The clever alliteration in the title and the striking front cover illustration both lead the way into a fascinating journey through two stories that have a touch of gothic creepiness about them. The language is fluent and vividly descriptive with storytelling skill which propels the stories forward with suspense and mystery towards a satisfying conclusion. While Beauty and the Beast reveals a beast who is genuinely good and ultimately handsome, Bluebeard is ironically about an intriguing man who is truly a beast at heart. Both stories are full of tantalising elements and memorable scenes.
Lovely illustrations by Fiona McDonald capture the heart of each fairytale sometimes in rich colour and sometimes in black and white sketches. The simplicity of the latter technique  serves to accentuate the vulnerability of the two young heroines in each story. The endpapers of black and white photographs give an added touch of reality to the tales with a dark, gothic castle set against a charcoal sky. The illustrations, though alluring, leave plenty to the imagination while the eloquent language of the storytelling is impelling and well structured.
Adele Geras and Fiona McDonald have created a most appealing and visually stimulating book suited to 8 to 12 year olds.
Teacher's Notes are available on the Dennis Jones website.
reviewed by Grace Nolan