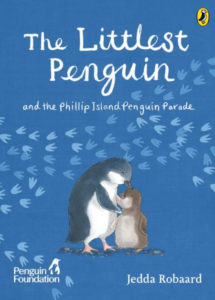 I've never met someone who doesn't like penguins says Dr Peter Dann, Penguin Foundation Director, Phillip Island Nature Parks. This appealing story of Little Penguin and the three buddies called Scruffy, Cheeky and Big Chick reveals the real life of the little penguin colony on Phillip Island or the First Nations' Bunurong name, Millowl.
Tasmanian author and illustrator, Jedda Robaard, in association with the Penguin Foundation has created the joys and challenges of these cuddly, adventurous, waddling, and cheeky penguins as they emerge from their egg to travel deep into the sea. The four delightful characters 'huck' through the story, and we 'huck with them. Jedda Robaard's chapters follow the everyday life of the little penguins, with their curiosities, fears, joys, and friendships. Their challenges are huge. Their adventures exciting. Their cosy burrows are a safe place called home.
I love this book for so many reasons. I love the endorsement and support by the Penguin Foundation, which of course is the logo of Penguin Publishers. Penguin Random House provides funding used for Penguin research projects and contributes to Little Penguin protection, rescue, and rehabilitation. The gift size hardback book itself is a treasure with its beautiful water colour illustrations throughout the simple but beautiful text.
Of course, the information section at the end satisfies the many questions that arise from the story, 'About the little penguins.' You have to smile when you see a little penguin in an orange jumper. Then you discover that the little penguin doesn't know how to adapt to oil spills from the oil rigs. After a spill, oil-affected little penguins are dressed in jumpers until rescuers can wash the little penguins. There is so much to discover in this book. Did you know that little penguins have the highest velocity of poo of any animal, projecting their poo up to fifty centimetres. It means that can keep their burrows clean and you have better watch out for pooing penguins!
There is a lot to learn when you dive into the Teacher's Notes too. There is a lot to love in 'The Littlest Penguin.'
Suitable for children for 7 and adults and everyone.
Highly Recommended.
Reviewed by Susanne Gervay