Katya Balen, Foxlight, Bloomsbury, October 2023, 243 pp., RRP $16.99 (pbk), ISBN 9781526640437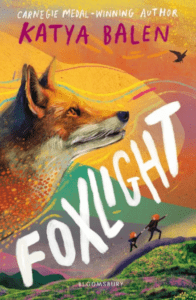 …stories pull together truth and imagination and sometimes they help you find what you were really looking for.
Fen and Ray are eleven year old twins. As babies, they were discovered curled up warm and safe with foxes and have always felt a connection to nature and particularly with foxes. They were found at foxlight. Right at that very moment when quiet twilight met the dawn and the sun and the moon and the stars wove their light together and the orange streaks of foxes could be seen brushing against the awakening sky.
They live in the Light House on the edge of the wildlands with other orphaned children, and are cared for by Lissa who is loving and kind, ensuring that they all feel safe and loved. There is enough food and warmth for everyone, even if it's sometimes a stretch. The other children write letters to their mothers, but Fen and Ray don't have any idea who their mother is – she left no clues with them.
They yearn to find her, and to understand why she left them. Fen, from whose perspective the story is told, particularly longs to be free and live a wild life in the wildlands. When a fox approaches the Light House, the girls see it as a sign and follow it into the wildlands, believing it will lead them to their mother.
As the twins face hunger and the harsh elements, they discover that perhaps they are yearning for something that they already have. Fen realises that she should never have been searching for just one arrow-straight path because that's not what a story is and stories loop and turn and curve and twist but there is always something that stays the same.
Balen's writing is lyrical and poetic. At times she uses an almost stream of consciousness technique, which creates a breathlessness that reflects how Fen feels. I loved her writing, but I wonder if it could be a bit esoteric for the intended audience. There is a timelessness to this story; it's impossible to tell when it is set; it's almost like a fairytale.
Special mention must be made of the gorgeous cover and incidental art throughout the book by Barry Falls.
The book is described as suitable for 'middle grade', which presumably means ages 9 to 12.
Reviewed by Gaby Meares