Jane Smith, The Lady with the Lamp (Carly Mills Pioneer Girl #4), Big Sky Publishing, July 2021, 179 pp, RRP $12.50 (pbk), ISBN 9781922488220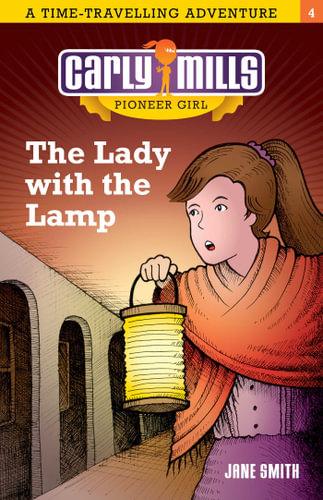 The Lady with the Lamp is the fourth instalment in the Carly Mills Pioneer Girl series, a collection of empowering stories about a feisty, time-travelling tween who discovers how female pioneers have paved the way and changed the world. Written by award-winning author Jane Smith (Bushranger non-fiction series & Tommy Bell Bushranger Boy fiction series) and illustrated by talented illustrator Pat Kan, this original series brings to life the overlooked history of female changemakers, for younger readers (6-11 years).
By donning her magical scarf, Carly and her friends are transported back in time to meet trailblazing women such as immigrant mentor, Caroline Chisolm (Book 1, Carly Mills Pioneer Girl: A New World) and Queensland's first female doctor, Lilian Cooper (Book 2, Carly Mills Pioneer Girl: Emergency), and famous opera singer, Dame Nellie Melba (Book 3, Carly Mills Pioneer Girl: Superstar) who, through their determination, integrity and courage achieved remarkable things.
Book 4 of this time-travelling adventure, Carly Mills Pioneer Girl: The Lady with the Lamp, certainly does not disappoint as Carly, Dora, and Simone travel back to the time of Florence Nightingale. Here on the stench-ridden streets of nineteenth century London, and later as trainee nurses during the Crimean war, the friends face appalling discrimination, uncontrolled disease, and great danger.
Carly and her best friend Dora have a strained relationship with the often-agitated Simone, but this story sees the girls travelling back to London to visit Simone's family and a deeper understanding of their new friend develops as a result. So much so that the girls allow Simone to convince them to join Florence aboard the Vectis, a wooden paddle steamer bound for Constantinople. Unfortunately, the infestation and sickness experienced upon their journey pales in comparison to the conditions of their destination: Barrak Hospital Scutari, in the Crimea.
As the story unfolds, the clever blend of history and fiction transports the reader, bringing the social injustices and inequalities experienced by Florence and the three main characters to life.
Simone's grit and determination when the going gets extremely tough bring about an unexpected sense of purpose for the friends and the new realisation that courage sometimes means owning up to your mistakes.
Full of adventure and dialogue, exploring themes of loyalty, courage and social justice, this narrative along with its historical notes, quotes, and Q&A with Florence Nightingale would be a great resource for primary teachers to use alongside the accompanying teacher notes available at the website.
Reviewed by Lisa Hoad