Jackie French, Legends of the Lost Lilies, HarperCollins Publishers, August 2021, 448 pp., RRP $32.99 (pbk), ISBN 9781460755006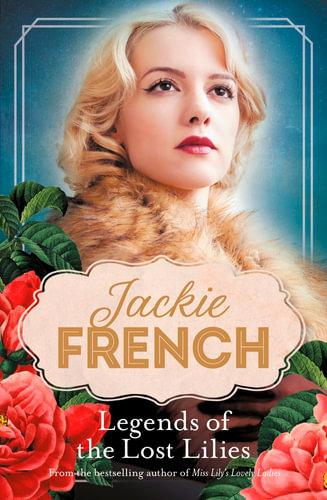 From renowned Australian author and historian Jackie French, comes the thrilling fifth and final instalment in the Miss Lily Series.
Sophie Greenman, countess, mother, and friend to many, is settled peacefully amidst family on her property in Australia. That is until in 1942, she receives an urgent telegram from an old friend in England requesting her presence for a mysterious mission in espionage. Unable to turn down the promise of adventure, she leaves the calm of Australia to welcome the horrors of World War 2 in Europe.
Sophie is instructed to encourage anti-Hitler sentiment among the aristocratic class in France. The desperate mission fails and Sophie is captured, interrogated and tortured by the Gestapo (secret German Police) while her family remains unaware of her situation. And yet, despite attempted execution, years of living in secrecy and labouring as a prisoner, Sophie manages to defeat the odds, with hopes of being reunited with family when the war ceases. However, Sophie learns that at the official conclusion of the war, she and millions of others in German-occupied Europe face the battles of starvation, Russian revenge, and perpetual fear.
Based on real life events and meticulously researched, Legends of the Lost Lilies gives a most accurate experience of WW2 from the broad German, French, Australian and English perspectives. The story thoroughly highlights the unrecorded role of women during the war, particularly in terms of intelligence and espionage work. The theme of friendship and loyalty is profound as readers are thrust into a world of secrecy and betrayal.
I found this novel to be quite captivating, forcing me to acknowledge the danger, fear and hope that embodied WW2. I particularly loved the quotes, letters, and recipes each chapter begins with, effectively showcasing the reality of wartime conditions. The scenes were quite confronting, including torture, execution, morbidity, and suicide, but I found this to be a necessary element so that readers can understand the reality and brutality of war.
I recommend this immensely intriguing and informative conclusion of the series to older readers who enjoy learning of the secrets of war and the most respected heroism of women.
Reviewed by Olivia Sammut